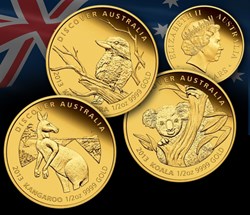 Minneapolis, MN (PRWEB) June 25, 2013
New York Mint®, the world's leading source and direct marketer of high-value collectible coins, has secured the world exclusive on 250 First Struck 3-piece half ounce Gold Kangaroo, Koala and Kookaburra Complete Proof Set from Perth Mint as part of the Discover Australia program. These coins are each struck in a half ounce of 99.99% fine gold with an extremely low mintage for these one-year issues. The coins are official legal tender coin minted under the authority of Australian Government and the Australian Currency Act. This is the first time the three animals have been assembled and released in a half ounce. Gold Proof Set featuring Australia's most recognized and admired animals. This Discover Australia program was first launched in 2006 and highlights ionic Australian animals, famous cities, attractions, plants and flowers – a program highly coveted by collectors each and every year.
The coins' reverse designs feature each ionic animal – the adult Kangaroo is set against a bush scene and track, the adult Koala is peering through the branches of a eucalyptus tree and the final animal, the Kookaburra is resting in a tree. The obverse of these proof coins includes the Ian Rank-Broadley effigy of Queen Elizabeth II along with the $50 DOLLARS monetary denomination. The 3-piece set is specifically manufactured using polished dies and selected planchets (blanks), to give a desired mirror effect. Coins featuring this design are typically struck two times or more and rarely enter circulation. These Gold Proof Sets are issued by Perth Mint and are certified as one of 250 struck by Numismatic Guarantee Corporation (NGC) in Proof 70 (PF70) and Proof 69 (PF69) condition. Each 3-piece Complete Gold Proof Set arrives in a Perth Mint wooden presentation case along with a numbered Perth Mint certificate of authenticity created exclusively for New York Mint and this 3-piece set.
Perth Mint is internationally recognized as a leader in the production of innovative precious metal coinage of the highest quality. It is Australia's oldest operating mint, originally established as a branch of Britain's Royal Mint in1899. Perth Mint's success has been built on an uncompromising commitment to the highest quality standards and continuing product and design innovation. New York Mint has been a distributor of Perth Mint collectible coins for over 20 years. "New York Mint is pleased to again work with Perth Mint on this 2013 3-piece Kangaroo, Koala and Kookaburra Complete Gold Proof Sets and appreciate the opportunity to provide our customers with the Mint's approved First Strikes on these extremely low mintage coins," said New York Mint President Bill Gale.
About New York Mint®
Since 1984, New York Mint, LLC has been a private distributor of coin and currency issues and privately issued licensed collectibles. New York Mint provides collectors with one-stop access to some of the finest quality, rarest and most sought-after coins from worldwide government mints, shipwrecks, ancient hoards and exotic locales. The treasures secured by New York Mint span historic eras from ancient times, through the American Civil War, and up to the most contemporary milestones and events. New York Mint partners with the Smithsonian Institution®, government mints and monetary authorities, distributors and wholesale dealers worldwide. Recently, they were U.S. distributors for the London 2012 Olympic Games Coin Program. For additional information, visit http://www.NewYorkMint.com or call 800 642 9160.
Source: New York Mint