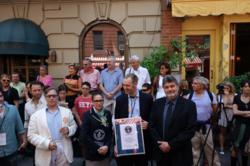 "When Make Music New York first reached out to Yamaha about making a 'Largest Keyboard Ensemble' Guinness World Records attempt, we were certainly up for the challenge," said Mark Anderson, director of marketing, Keyboard division, Yamaha
New York, NY (PRWEB) June 25, 2013
Music filled Manhattan's West Village when 175 musicians performed on 175 Yamaha portable keyboards to achieve the Guinness World Records title for "Largest Electronic Keyboard Ensemble" as part of the annual Make Music New York celebration.
Now in its seventh year, Make Music New York is a unique, citywide festival of more than 1,000 free concerts held in public spaces throughout the five boroughs, and all on June 21st, the first day of summer.
The record-breaking event—the previous mark was 160 keyboard players in Sri Lanka last December—featured a performance of Pachelbel's "Canon in D" by musicians recruited throughout the city, and led by composer Jed Distler on a Yamaha grand piano provided by Faust Harrison Pianos of Manhattan. It was then followed by the world premiere of Distler's composition, "Broken Record."
At the conclusion of the event, Viacom, through Viacommunity, the company's umbrella for social responsibility; VH1 Save the Music Foundation and Yamaha Corporation of America donated the keyboards to the New York City Department of Education, which will place them in deserving schools throughout the city. The keyboard donations were facilitated by Materials for the Arts, a reuse program of the New York City Department of Cultural Affairs.
"When Aaron Friedman of Make Music New York first reached out to Yamaha about making a "Largest Keyboard Ensemble" Guinness World Records attempt, we were certainly up for the challenge," said Mark Anderson, director of marketing, Keyboard division, Yamaha Corporation of America. "We then had the great fortune of working in partnership with Viacom and the VH1 Save the Music Foundation to donate the 175 Yamaha Keyboards to the New York City Department of Education. Enriching children's lives through music is one of the most important things we can do to advance our culture in this country. And this is what gives these keyboards their meaning today."
Added MMNY's Friedman: "The city of New York is teeming with musicians, young and old, amateur and professional. What better place to break a Guinness World Record? This event is a perfect example of what Make Music New York is all about: the joy of playing and listening together. We hope New Yorkers of all musical backgrounds and interests will join us next year on June 21, the first day of summer."
Make Music New York takes place simultaneously with similar festivities in more than 514 cities around the world — a global celebration of music making. From 10am to 10pm, musicians of all ages, creeds, and musical persuasions perform on streets, sidewalks, stoops, plazas, cemeteries, parks, and gardens. From high school bands to marquee names, Make Music New York is open to anyone who wants to take part, enjoyed by everyone who wants to attend.
About Yamaha
Yamaha Corporation of America (YCA) is one of the largest subsidiaries of Yamaha Corporation, Japan and offers a full line of award-winning musical instruments, sound reinforcement and home entertainment products to the U. S. market. Products include: Yamaha acoustic, digital and hybrid pianos, portable keyboards, guitars, acoustic and electronic drums, band and orchestral instruments, marching percussion products, synthesizers, professional digital and analog audio equipment, Steinberg recording products and Nexo commercial audio products, as well as AV receivers, amplifiers, Blu-ray/CD players, iPod docking systems, home-theater-in-a-box systems, earphones, headphones, sound bars, and its exclusive line of Digital Sound Projectors. YCA markets innovative, finely crafted technology and entertainment products and musical instruments targeted to the hobbyist, education, worship, professional music, installation and consumer markets.