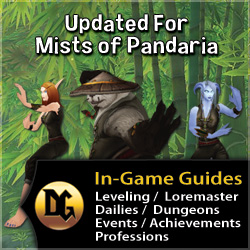 (PRWEB) June 24, 2013
World of Warcraft players eager to finish the Midsummer Festival event before it ends can breathe a sigh of relief: Dugi Guide's has just posted their brand new guide for the 2013 iteration of this annual WoW event. This guide walks players through the event in step-by-step fashion, showing players the fastest way to unlock all the events and rewards available during this limited time event.
The Midsummer Festival is bigger than ever this year and runs from June 21st to July 5th. Players only have these two weeks to complete all the events in the Midsummer Festival. If players are unable to complete the event in time, they have to wait until the next year before the event-specific quests are once again available for play.
Players really feel the time crunch with this event as finding all the bonfires associated with the event can be time consuming. Even just a week of summer vacation in real life during the event can make it impossible for a player to complete the Midsummer Festival on their own. Fortunately, Dugi's new guide makes it easy. Dugi's Events Guide provides players not only with all the bonfire locations but also the fastest route possible for grabbing them all. This allows players to quickly unlock all the bonfires that are part of the festival's achievements.
As an added bonus, players who follow Dugi's Midsummer Festival guide will not only unlock all of the achievements associated with the event, but will earn over 1500g in quest rewards! Visiting bonfires and completing the quests associated with this event earn gold for players. This provides players not only with new achievements and achievement points but also a solid nest egg of gold that can be used for new gear, repairs, potions, enchants, or gems!
Dugi's leveling guide also works great during the Midsummer Festival. Players can get a buff from the bonfires which increases experience point gain, which makes Dugi's famous speed-leveling guide more effective than ever. Dugi's Guide differentiates itself from other World of Warcraft guides by providing in-game routes and guides that direct players where to go in World of Warcraft. The software is perfectly synced with the game and loads just like a normal add-on.
The Midsummer Festival runs until July 5th, so be sure to check out the new events guide in order to complete the achievements in time. More details are available at Strategy Guides HQ, which you can visit by clicking here.