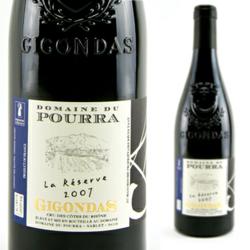 Vienna, VA (PRWEB) June 25, 2013
Classe Wines is pleased to announce the availability of 2007 Domaine Du Pourra "La Reserve," a Gigonda red wine produced in the Rhone Valley in France. The availability of this fine red wine from Gigondas in the Rhone Valley is an opportunity for all connoisseurs of French Red Wine in general and wine from Gigondas in particular to add an attractive variety to their collection at an affordable price.
2007 Domaine Du Pourra "La Reserve" is a Gigonda exclusive wine with a taste that is deep and powerful. It has a unique color that is darker and blacker than many other red wines. It's flavor is spicy, with a taste of dark fruit, blackcurrants, cherry, and lavender. It has a full body and when finished it has a mineral background that is reflective of the area where it is grown. The finish from this wine also reveals a hint of new flavors and aromas including licorice and violet. This wine is excellent for drinking either now or in the future and is projected to keep aging for several years if kept in proper storage.
The unique taste of this wine is a reflection both of the winemaker who produces it as well as the region where it is grown.This wine is a Gigonda, which is a name for wines that are produced in the Gigondas region which is in the southern part of the Rhone Valley in France. Gigondas can contain a variety of different types of grapes, including Grenache, Mourvedre, and Syrah, provided that 80 percent of the grapes used are Grenache, and no other variety of grapes exceeds 10 percent of the total used.
2007 Domaine Du Pourra "La Reserve" is produced at the Domaine du Pourra winery owned by winemaker Jean-Christian Mayordome, who entered the winemaking business following a career as a medical doctor, and still possesses a license to practice medicine. Mayordome purchased the vineyards that are used to grow this wine in 1998, and they occupy 62 acres, that can only be reached using a four wheel drive vehicle due to their altitude between 1000 and 1600 feet. The vines at these vineyards were planted between 1962 and 1970. Following Mayordome's purchase of the vineyard, the winery shifted to using organic winemaking techniques, in line with Mayordome's belief in the importance of organic farming to produce quality wine products.
This quality French red wine from Gigondas in the Rhone valley is an excellent addition to the collection of any enthusiastic wine connoisseur. It is available from Classe Wines at a price of $44.95 per bottle, $264.31 per half case, and $523.22 per case. To order, visit classewines.com or call 1-800-793-9141 today.
Contact
Georgiy Kharchenko
1-800-793-9141