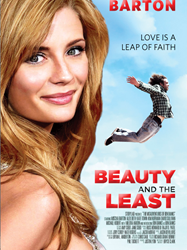 . . . independent filmmaking in its purest form.
Hollywood, CA (PRWEB) June 25, 2013
Storyland Entertainment and Green Apple Entertainment release the romantic dramedy, "Beauty and the Least," written and directed by Bryce Clark.
Ben Banks is an aimless but loveable guy who spends his days and nights hanging out with his friends and smoking pot atop the bluffs of St. George, Utah. An aging college student with one journalism course to complete until he (finally) earns his degree, he must write one usable article for the school paper.
Life takes a turn for the better when he starts dating the beautiful barista at the local coffee shop, Amy (Mischa Barton). Things are going well, until one night Ben stumbles upon a shocking secret about her past. Now he must embark on a mission to reclaim her dignity, prove his love, and become an adult.
Early reviewers are applauding "Beauty and the Least." The Independent Movie Guide states that the film "represents the spirit of independent filmmaking in its purest form." And Mad About Movies recognizes its "unexpected moral boost to counter its somewhat edgy spirit."
The film is based on a junior communication major at Dixie State College of Utah, Ben Banks--a real-life acquaintance of Bryce Clark's. They had worked together on a commercial, and Ben had made an impression on the filmmaker. Ben later shared stories of his life experience, and Bryce developed these into a fact- and fiction-based screenplay.
Bryce made the directorial choice to cast Ben Banks as himself and use non-actors alongside well-known professionals in the movie. "Using non-actors in 'Beauty and the Least' has added to the authenticity of the movie," Bryce explains. "For the most part, critics have understood and applauded this choice, especially in the use of an independent film that privileges realism over form."
"Beauty and the Least" stars Mischa Barton ("The O.C.") and Ben Banks. The film was produced by Justin Lyon ("Yo Gabba Gabba," "The Aquabats"). "Beauty and the Least" is distributed by Green Apple Entertainment. The film has not been rated.
For more information or to reach the cast and/or crew for an interview, please contact Amy Osmond at 949.813.0182, amy(at)sourcedmediabooks(dot)com, or http://www.amyosmond.com. For more information about Bryce's other projects, please visit http://www.brycebclark.com.
ABOUT WRITER/DIRECTOR BRYCE CLARK
Bryce began writing screenplays in his early 20's. In 2002, his screenplay, "The Devil's Handbook," reached the semi-finals of the MPAA's Nichol Fellowships in Screenwriting. In 2008, Bryce sold his script, "Fix," to Asgaard Entertainment. From 2008-2010, he directed commercials for the The Dick Nourse Center for Media Innovation. In addition to directing "Beauty and the Least," Bryce cowrote the feature film, "End of an Empire," and wrote for "Yo Gabba Gabba!" (Nickelodeon). Bryce is the author of the children's book, "Red Shirt Kids," which will be published Fall 2013. Bryce and his wife, Stephanie, live in the Salt Lake area with their five children.
ABOUT PRODUCER JUSTIN LYON
Justin is a producer/owner of the children's TV show, "Yo Gabba Gabba!" which airs on Nickelodeon in the US and on various networks in numerous other countries. "Yo Gabba Gabba!" won a BAFTA (British Academy Award) for best international kids show, has been nominated for multiple Emmys, was named one of the top 10 new shows in 2007 by Time Magazine, and was named one of the 50 reasons to watch TV by Rolling Stone.
In addition to producing "Beauty and the Least," Justin is also a producer for the feature film, "End of an Empire," and "The Aquabats Super Show!" which airs on The Hub. Justin has produced award-winning short films that have played at both the Sundance and Cannes Film Festivals. Justin and his wife, Amelia, live in Southern California with their three children.