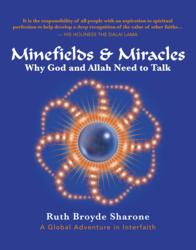 "It is the responsibility of all people with an aspiration to spiritual perfection to help develop a deep recognition of the value of other faiths."
His Holiness the Dalai Lama
Los Angeles, CA (PRWEB) June 26, 2013
Why is there so much hate and religious violence? What can I do to change the world? How can just one person make a difference?
At a time of heightened religious conflict and unrest around the world MINEFIELDS & MIRACLES comes as a breath of fresh air and a statement of renewed hope. Broyde Sharone's riveting memoir—regaling readers with what she calls her interfaith "adventures and mis-adventures"-- has been endorsed by more than 30 religious leaders including H.H. the Dalai Lama. Paul Chaffee, editor of The Interfaith Observer, describes the book as "a page-turner, a compelling, fearless quest to reach across the toughest interreligious boundaries . . ."
Creator of the Golden Rule Poster, Paul McKenna says MINEFIELDS & MIRACLES should be required reading for anyone who is serious about interfaith dialogue. "I have been involved in interfaith work for more than 30 years . . . and I have seen and heard interfaith stories from around the world, but I have never encountered an interfaith testimonial with the depth and breadth of this one."
Professor Cornel West at Princeton says: "I strongly support this book." Best-selling author Marianne Williamson concurs. "This book is a MUST READ for individuals who seek to be collaborators with the Holy in the quest for peace."
An inspirational speaker, filmmaker, and journalist, and a recognized champion for interfaith engagement, Broyde Sharone was recently inducted into the Martin Luther King Board of Advisors of Morehouse College. Ruth's documentary, GOD AND ALLAH NEED TO TALK, took top honors earlier this year as the best short in the 2013 World Harmony Interfaith Film Festival. A former staff member of the Parliament of the World's Religions, she is currently serving her third term as Co-Chair for the Southern California Committee for a Parliament of the World's Religions (http://www.SCCPWR.org) in Los Angeles, and is responsible for initiating and co-producing some of the most innovative interfaith programs in Southern California, in the U.S. and abroad.
The book is available for purchase through amazon.com, barnesandnoble.com, the author's website http://www.MinefieldsAndMiracles.com, and shortly as an ebook.