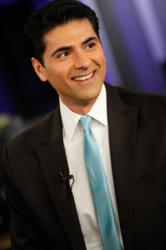 You could potentially take this medication and avoid post traumatic stress.
Beverly Hills, CA (PRWEB) June 27, 2013
During his weekly visits to Fox's Good Day LA, Dr. Sonu Ahluwalia informs viewers about the latest news in health and wellness. This Monday, the orthopedic surgeon spoke about the potentially life-threatening risks associated with restless leg syndrome.
"We thought it was just an annoyance," said Dr. Ahluwalia. "But we are realizing that maybe there are medical repercussions to having restless leg syndrome."
Affecting an estimated ten percent of Americans, restless leg syndrome causes patients to feel an unpleasant or itchy feeling in the legs. Lasting for an hour or longer, the sensation motivates sufferers to get up and walk around at night and often results in disturbed sleep. According to a recent study involving 18,000 participants, patients with restless leg syndrome demonstrated a higher mortality rate than those who did not suffer from the condition.
While doctors don't yet know what causes the increased mortality rate, various factors such as stress and weight gain associated with the lack of sleep could be to blame.
Dr. Ahluwalia urged anyone with restless leg syndrome to be screened: "If we have viewers who have symptoms at home, please go see your doctor; don't ignore this," he said.
The board-certified surgeon also spoke about exciting new research regarding post-traumatic stress disorder. Causing severe stress, anxiety and depression, PTSD frequently affects soldiers and those who have witnessed an accident or act of violence. However, a new medication may enable doctors to prevent post-traumatic stress symptoms all together by blocking certain receptors in the brain.
"You could potentially take this medication and avoid post traumatic stress," said Dr. Ahluwalia.
Watch the entire news segment with Dr. Ahluwalia on My Fox LA.
For more health tips from Dr. Ahluwalia, as well as videos of his other FoxLA segments, visit his Facebook page.
Sonu Ahluwalia, MD, is an internationally acclaimed board-certified orthopedic surgeon at La Peer Health Systems, as well as the Clinical Chief of Orthopaedic Surgery at Cedars Sinai Medical Center in Beverly Hills. His private practice specializes in sports medicine, shoulder, knee and hip surgery.
Dr. Ahluwalia completed his orthopedic training at the Harvard Combined Orthopaedic Surgery Residency Program in Boston, one of the most sought after training programs in orthopaedic surgery. He has completed three fellowships, two at Harvard Medical School and one at Lenox Hill Hospital in New York City, on shoulder surgery, sports medicine, and joint replacement and joint preservation surgery. For more information please call 310.659.2910 or visit http://www.Ahluwalia.org.