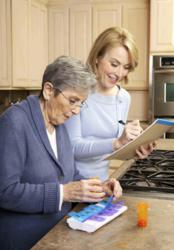 We are helping the home care industry by providing them the tools they need for compliant hiring.
Jacksonville Beach, Florida (PRWEB) June 25, 2013
SingleSource Services, a national background screening provider, will be showcasing two cost effective and time saving risk management tools at the Visiting Angels Annual Conference, June 24 to June 27, being held in Baltimore, Maryland.
"The May 2013 Employment Situation report released by the U.S. Bureau of Labor Statistics points to a growing demand for qualified home health care providers and that need is only projected to escalate. Helping the home health care industry prepare for those hiring challenges is why we are so excited to offer these two new tools," explains Donald J. Dymer, president and chief executive officer of SingleSource.
"We recently announced an alliance with ClearCare Online, an award-winning software solution company for the private duty home care industry. This new alliance provides easy access to background screening tools to private duty home care agencies within the ClearCare system that they use day-to-day for everything from scheduling, accounting and point-of-care to managing new prospective clients and caregivers. The alignment of our companies gives private duty partners the ability to consolidate their important administrative functions under one umbrella. Most private duty agencies are operating on tight budgets," Don Dymer, CEO of SingleSource, explained. "Our partnership provides ClearCare customers with access to our background screening specialists who will deliver comprehensive, detailed and streamlined background screening programs and reports when they are needed at a price they can afford."
Paperless I9 Management Solution
SingleSource will also introduce its new electronic Form I-9 processing system. "There is nothing that will get a company into hot water faster than an I-9 verification process that lacks detail and consistency," explains Dymer. "While E-Verify is helpful it doesn't solve the administrative problems of I-9 administration. If you are audited and you have failed to keep meticulous records, you'll likely face fines. Our I-9 electronic management system saves I-9 forms in a searchable database, crosschecks social security numbers, tracks document expiration and provides you with an audit trail identifying ALL actions taken. The forms and the process are stored digitally, searchable for reviews, audits and re-verification."
Dymer continues, "The safest way to protect your company from a government audit is to run an internal audit and perform due diligence when managing your I-9 Forms. Our Automated Paper I-9 Conversion and Auditing process can determine your current state of compliance on all existing paper I-9 Forms on file. The SingleSource Services audit process helps show due diligence and can guard your company from risk and exposure, costly fines and a negative public image.
The SingleSource paper to web Form I-9 conversion process allows you to scan and convert your paper forms into a secure searchable database that provides our full suite of Form I-9 management tools. The system also keeps a scanned copy of the original form.
SingleSource background screening programs are fully supported by experienced, in-house professionals. "We understand the intricacies of federal and state compliance mandates and work to make sure our methods not only meet, but often exceed those requirements," notes Don Dymer. SingleSource has been providing background screening solutions to the home care industry for nearly ten years and understands the hiring and pre-screening challenges.
SingleSource Services is located in Jacksonville Beach, Florida. Since 1995, the company has provided background screening services to over 2,300 businesses across a wide variety of industries and non-profit organizations. The company's trademark is their customer service and commitment to integrity, reliability and accuracy. For more information, contact 1-800-713-3412.
ClearCare Online is located in San Francisco, CA and is the fastest growing scheduling platform in home care. Agencies using ClearCare grew at a rate of three times the industry average in 2012 because of ClearCare's ability to drive significant efficiency improvements and to help agencies differentiate against competitors.
Learn more about the companies by visiting their websites, ClearCare http://www.clearcareonline.com and SingleSource at http://www.singlesourceservices.com
Sources: May 2013 Employment Situation Report, U.S. Bureau of Labor Statistics