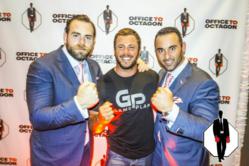 Boston, MA (PRWEB) June 25, 2013
Game Plan Nutrition LLC(GPLH), a line of nutritional supplements sold online exclusively through a network of personal trainers, sponsored local charity event Office To Octagon on Saturday June 22, 2013. Over 600 people attended the nonprofit movement to curtail childhood obesity through the support of athletics, nutritional education and prevention programs at The Revere Hotel in Boston, Massachusetts.
Office to Octagon featured their first ever-annual MMA Fight Night, an event that took 18 young professionals out of the office and into the ring to fight three rounds. None of the competing fighters had any prior fighting experience, and by day continued their work as real estate brokers, financial analysts or entrepreneurs. By night, they embarked on a 12-week intense training program including mixed martial arts, Brazilian jiu jitsu and Olympic lifting for up to 20 hours a week. In addition to taking on each other, these first-time fighters banded together to fight childhood obesity and raise money for an important cause.
Game Plan Nutrition's sponsorship table at the event centered on nutritional awareness and fitness was the highlight of the evening. People stopped by to try fresh banana, peanut butter, and chocolate-whey protein shakes while signing up for the nutritional supplement program. Many trainers who attended from differing fitness spheres including MMA, Crossfit, and Equinox were eager to start selling products to their clients in order to make a commission.
Office to Octagon found a unique, innovative way to raise funds for their cause against childhood obesity, while Game Plan Nutrition was eager to sponsor the cause to educate attendees about fitness and nutrition.
About Game Plan Nutrition
GPLH develops tools and products focused upon the intersection of three important market trends: proprietary nutritional supplements, sold exclusively through personal trainers and other fitness professionals, using online mobile tools. These tools allow our affiliate fitness professionals to coordinate fitness goals with our nutritional supplements at the key point of contact before, during and after workouts and related consultations. The official Game Plan Nutrition LLC product launch will be in the summer of 2013.
Forward-Looking Statements
Certain statements made in this announcement may constitute "forward-looking statements" within the meaning of Section 27Aof the Securities Act of 1933, as amended, and Section 21E of the Securities Exchange Act of 1934, as amended. Management cautions that these statements are based on management's current knowledge and expectations and are subject to certain risks and uncertainties, many of which are outside of the control of the Company that could cause actual results and events to differ materially from the statements made herein. For a more detailed discussion of the risks that could affect our operating results, see our filings with the Securities and Exchange Commission, including our annual report on Form 10-K and our subsequently filed quarterly reports on Form 10-Q. The Company's actual results could differ materially from those contained in the forward-looking statements. The Company assumes no obligation to update any forward-looking statements, whether as a result of new information, future events or otherwise.