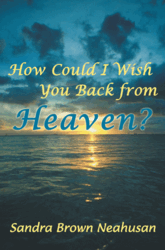 I found myself talking to God all the time.
Venice, FL (PRWEB) June 26, 2013
A new book by Sandra Brown Neahusan describes the path of grief and recovery she has walked since her husband passed away in June 2010. It chronicles how her faith and trust in God were the guiding forces of her recovery.
In her book, Sandra discusses the many emotions such as sadness, overwhelming grief, and desertion that a person experiences after the loss of a loved one. Sandra felt extreme hopelessness when all she was able to do was cry some days. She also felt hopefulness as she trusted in God's compassion as she sought His plan for her life and discovered the many ways He was guiding her.
Sandra has a burden for others who have lost loved ones through death, especially spouses. She desires to be an encouragement in a time when grief is new and emotions are raw. People sometimes have difficulty expressing the feelings of hopelessness, aloneness and despair that occur after the loss of someone special. Sandra courageously approaches these with honesty, compassion and humor.
Testimonials from readers:
"Sandy's book is a gift to us from her heart. It is beautifully written and will help anyone who has lost a loved one. She is one strong lady and I am personally grateful to her for letting us into her mind and heart" - MCY
"Sandy, I read your very touching book. Excellent. I could hear you speaking as I read every word. You are a gifted writer. Many women will be given strength from your spiritual guidance." - JCT
"Just wanted to tell you what a blessing it was to me!! As I read your book, the Lord really touched me and encouraged me through your words! Just wanted to say Thank You for allowing the Lord to use you to bless myself and I am sure many others!!" - MS
"I would definitely recommend this book for the helpful, honest insights that it contains. I like how you matched the different Scripture verses to each chapter!" - CBS
"My friend that I gave the book you wrote to just sent me a thank you for the book. She says the book is spot on with how she's feeling." - SN
A radio interview Sandra participated in can be located at: http://radiosrq.com/news/how-could-I-wish-you-back-from-heaven/9577. In the interview, she spoke of the heartache of losing a spouse and also of ways to continue life as a single woman after many years of marriage.
Sandra and her husband served their local church in many ways. She desires to continue serving Him as He leads. They worked with Southern Baptist Disaster Relief programs after Hurricanes Floyd and Katrina.
At present, she is facilitating a GriefShare http://www.griefshare.org program at her church.
"How Could I Wish You Back From Heaven?" is available on westbowpress.com, amazon.com, barnesandnoble.com and christianbook.com.