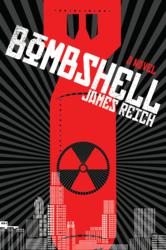 Santa Fe, NM (PRWEB) June 25, 2013
James Reich, contributing faculty member with the Creative Writing and Literature Department at Santa Fe University of Art and Design (SFUAD), has published his latest book, Bombshell: A Novel (Soft Skull Press, 2013). Reich will present a public reading, Q&A and book signing at 6 p.m. on Tuesday, July 16, at Collected Works Bookstore in Santa Fe. The event is open to the public and free of charge.
The publisher describes Bombshell as "a nuclear thriller set 25 years after the 1986 Chernobyl disaster, in which an alienated young Russian woman born in its shadow undertakes a road trip across the U.S., waging a guerrilla war against the nuclear industry and leaving in her wake a trail of destruction and assassinations. Obsessed with would-be Warhol assassin Valerie Solanas, Varyushka Cash recreates her atomic past through escalating violence and her one true goal: an assault on the Indian Point nuclear plant on the bank of the Hudson River. All along she is relentlessly pursued by the CIA, eager to capture Varyushka on charges of domestic terrorism. The cat-and-mouse chase leads to a final showdown in a decimated and irradiated New York, there on the cusp of a frightening new future. . . . Bombshell is a combustible and commercial step forward by one of our most creative and intellectual writers today."
The novel has already received high praise:
Reich's novel is chock-full of explosive ideas conveyed with radioactive prose. His heroine Varyushka Cash makes Lisbeth Salander look like a dimwitted Mary Poppins. This is dangerous fiction—handle with extreme caution.
—Isaac Adamson, Edgar Award Finalist, Complication
Reich is a formidable writer. He brings his characters and events to life with cinematic clarity. His eye for detail makes even the familiar seem alien. Above all he gives form to the terrifying invisible nuclear air that envelopes us all. Bombshell is a cautionary tale well told, offered up by a passionate and supremely gifted new author.
—Malcolm McNeill, Observed While Falling: Bill Burroughs, Ah Pook, and Me
Defiant, toothsome, and flaming with color, the voice of James Reich is one of the most exciting to emerge in recent years; he is both something new and something wholly real. If it is possible for a true underground writer to exist anymore, he is that author. Bombshell is sublime.
—Stephen E. Andrews, author of 100 Must-Read Science Fiction Novels
The feminist heroine is a fresh twist on the thriller genre.
—Kirkus Reviews
Since 2011, Reich has been a contributing faculty member at SFUAD, where he teaches creative writing and courses on post-humanism, science fiction, pulp fiction, Dadaism and literary theory.
"James is a dynamic contributing faculty member in Creative Writing," says Dana Levin, co-chair of SFUAD's Creative Writing Department. "His classes are rigorous and fun, his reading lists often surprising in the best way. Students love him."
Also the author of I, Judas (Soft Skull Press, 2011), Reich is represented by Lippincott Massie McQuilkin literary agents. He is a member of PEN American Center and the International Association of Crime Writers. Reich is a regular contributor to Boldtype magazine, and his work has appeared in The Rumpus, HEADzine, Sleeping Fish and other literary magazines. He is a founding member of the band Venus Bogardus (called "literate post-punk" by The Wire and "world-class" by BBC Radio), with vinyl and CD releases on independent record labels in the United States and U.K. He has played hundreds of live shows in the U.K., Europe and United States, from the Glastonbury Festival to the Bowery Poetry Club (New York City) and the Viper Room (Los Angeles). Reich was born in England and has been a U.S. resident since 2009.
Bombshell is available now for preorder from Amazon, and Kindle/e-reader versions will be available for preorder in July. Reich will also conduct readings at L.A.'s Skylight Books on July 25, and at Bookworks in Albuquerque in August.
About SFUAD's Creative Writing and Literature Department:
The Creative Writing and Literature Department at Santa Fe University of Art and Design enables students to learn from and grow along with a core of published, award-winning authors. Dedicated students polish their literary skills and discover the right forms for their unique voice, while taking advantage of numerous opportunities to conduct public readings, work collaboratively, and inspire and be inspired by their peers. Annually, the Creative Writing and Literature Department publishes a student-edited and student-produced literary journal, Glyph, featuring some of the university's best writing in creative nonfiction, fiction, poetry and screenwriting.
About Santa Fe University of Art and Design:
Santa Fe University of Art and Design is an accredited institution located in Santa Fe, New Mexico, one of the world's leading centers for art and design. The university offers degrees in arts management, contemporary music, creative writing, digital arts, film, graphic design, performing arts, photography and studio art. Faculty members are practicing artists who teach students in small groups, following a unique interdisciplinary curriculum that combines hands-on experience with core theory and prepares graduates to become well-rounded, creative, problem-solving professionals. As a Laureate International Universities Center of Excellence in Art, Architecture and Design, the university boasts an international student body and opportunities to study abroad, encouraging students to develop a global perspective on the arts. Santa Fe University of Art and Design is accredited by The Higher Learning Commission and a member of the North Central Association, http://www.ncahlc.org.
# # #