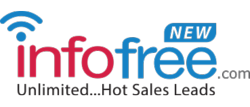 San Mateo, CA (PRWEB) June 25, 2013
infofree.com, the Home of Unlimited Sales Leads and Mailing Lists for only $49.95 per month, will soon be launching a Spanish-language version of its revolutionary product to allow more salespeople and small businesses to find new customers and grow their sales.
"There has been great demand from small businesses for a Spanish version of infofree.com, and we are excited to open our product up to a whole new market. This is just the start on our mission to expand into different markets across the country, and next, around the world," says Founder of infofree.com, Vin Gupta.
infofree.com has gained recognition among small businesses nationwide as the leading provider of unlimited access to nearly 300 million sales leads and mailing lists for one low price. In just two years, infofree has saved its 12,000 subscribers upwards of $100 million dollars that they would have spent on tradition lead generation services.
Now, the growing company is constantly looking for new ways to offer its valuable product to even more businesses and salespeople. According to the U.S. Census Bureau, just under 20% of people across the country speak Spanish, with that number expecting to grow substantially in the next decade. With the launch of the Spanish version of infofree.com, the new user interface will be able to accommodate millions of new users.
About Us: infofree.com™ is revolutionizing the sales lead and mailing list industry by providing unlimited search, select, and view of over 14 million business records, 220 million consumers, and hundreds of other specialty databases for the low, flat price of only $49.95 per month or $449 per year. Reach new homeowners, new movers, newlyweds, new businesses, and more. The infofree.com content is compatible with the following platforms: Oracle CRM, Salesforce CRM, Microsoft CRM, Nutshell CRM, Goldmine CRM, Sage ACT! CRM, Highrise CRM, Zoho CRM, NetSuite CRM, SAP CRM, Constant Contact, RightNow Technologies, Responsys, Vertical Response, and Dun & Bradstreet.