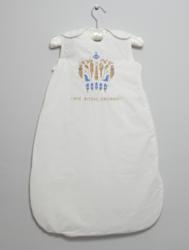 ..."I hope these Royal Grobags can help spread the word on a global scale about the importance of safer sleep for babies"...
(PRWEB) June 25, 2013
As the world waits with bated breath for the imminent British Royal birth, the award-winning number one UK safer baby sleep provider, The Gro Company, is proud to be launching a carefully embroidered and limited edition bespoke His and Her Royal Grobag for newborns, to add to the internationally acclaimed Grobag range.
Focusing on HRH's William and Kate's individual and shared passions, 60 Grobags will be available to buy in each design, ie His and Hers, at a RRP of £70.00 (approx. US$110) each with all proceeds going to the British charity, The Lullaby Trust. These Royal Grobags from the Gro Company are yet another example of innovative, high-quality design from the UK's leading provider of Baby Sleep Bags.
Commenting on the global launch of the His and Her Royal Grobag range, The Gro Company's Managing Director, Christian Jones, said:
"Designed by the team that is also responsible for creating the UK's favorite Sleep Bag, The Grobag, these iconic new 'His and Her' designs bring the story of the Royal baby to life in a simple, yet charming way. I hope they can help spread the word about safer sleep, hopefully reaching even more new parents around the world with this vital message.
"Having not only designed but also manufactured The Royal Grobag in the UK means we continue to fly the flag for British design and quality around the world. Our Grobags are market leaders internationally and The Royal Grobag has already generated interest from markets from North America to Australia," added Jones.
The Gro Company's His and Her Royal Grobags have been designed to represent the lives and loves of both Kate and William: a helicopter and a toy horse allude to William's career as a pilot and his love of Polo whilst Catherine's days as a hockey player are referenced with a hockey stick. Their joint love for their dog Lupo features too, coupled with a right Royal small troop of toy soldiers to stand guard over proceedings.
Each design contains over 26,000 stitches and the bags were all made in the Great Britain and are marked with a unique silver neck label and side tag. Only 120 of this special limited edition Royal Grobags have been created (60 of each sex) in white, gold and cyan for boys and white, gold and fuschia for girls.
Manufactured from the highest quality soft cotton, The His and Her Royal Grobags have passed the same multitude of safety tests that every Grobag must pass to ensure they offer the safest possible sleep solution for parents.
With accurate tog rating and precise neck sizing, these 0-6 month Grobags are the perfect safer sleep solution for any baby once it is ready for a sleep bag. They feature the classic Grobag side zipper for easy access and are recommended by The Lullaby Trust.
For international inquiries about His and Her Royal Grobag please visit http://www.gro.co.uk