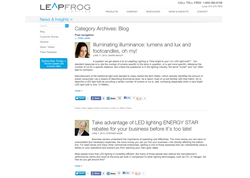 Electricity rates, as of 2012 ranged from 6.3 cents in parts of Canada, to 84.8 cents in the Solomon Islands
Ottawa, Canada (PRWEB) June 25, 2013
Leapfrog Lighting News and Insights reports on the rise in theft of LED lamps. In a peculiar endorsement of the popularity and efficiency of LED lamps, theft of the popular bulbs is a growing issue around the world as energy rates climb into high double digits per kWh in some countries.
"Even in the US and Canada, where energy rates are much lower than in Europe, bulb theft in hotels is very high," said Stephen Naor of Leapfrog Lighting. "When thieves target LED lamps, it indicates just how desirable they are in the market." Read more...
"57% of Hotel Visitors Admit to Stealing Bulbs"
In a poll, 57% of hotel visitors admit to having stolen bulbs from hotel, according to The Telegraph. This is second only to towels, and ahead of Bibles, curtains, artwork, picture frames and cutlery. This isn't discouraging widespread adoption of LED lamps in hotels though—where energy expenses still outweigh theft costs.
High relative energy costs were probably the motive in a major robbery of a warehouse in Chile, where electricity rates average 23.1 cents per kWh. 40,000 valuable LED lamps were stolen in Santiago, according to Chile's national police. In Chile, the average Chilean family only earns $240 per month, making the average $28 per household energy bill a major expense. Read more...
"Energy Rates Around the World"
As of 2013, the US consumes 61 million tons of coal, 1.6 million barrels of oil, 335,000 tons of Petroleum Coke and 588 million Mcf of Natural Gas, making it inevitable electricity rates will continue to rise as these non-renewable resources rise in price.
As of 2012, the average retail price in the US for electricity was 11.91 cents per kWh, up from 8.72 cents only nine years before, according to the U.S. Energy Information Administration.
About Leapfrog Lighting
Leapfrog Lighting, is best known for specialized commercial-application LED lamps, for applications where consistent quality is important, such as: retail and display, interior and architectural design applications, industry and commercial space, facility management, hospitals, galleries and museums.
Leapfrog Lighting's lamps provide "improved glare control, light distribution and color consistency," said Canadian Federal Minister Gary Goodyear, at a recent press event announcing an investment in Leapfrog Lighting's ongoing research and development. The Minister of State for Science and Technology praised "measurable improvement on lighting quality required by facility managers, institutions, architects and retail businesses."
The current Leapfrog Lighting product line includes MR16, PAR30, PAR38 and PAR20 lamps that provide industry-leading output power through high-efficiency LED source and driver electronics. The innovative lens design creates a pleasing, glare-free light suitable for use in all indoor and unexposed outdoor down-lighting applications. The lamps also deliver the high CRI and ultra-consistent color temperature control critical to multi-lamp applications in hotels, restaurants, schools, office buildings, museums, galleries, retail operations and other public spaces. With a life expectancy of 40,000 operating hours, these UL-registered lamps will provide more than 27 years of service at 4 hours per day.