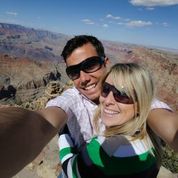 "Don't let the summer pass by without traveling with someone special," says Roger Dow, president of the U.S. Travel Association.
Washington, D.C. (PRWEB) June 25, 2013
This summer, couples that want to strengthen their relationships should consider forgoing the backyard BBQ in favor of a vacation getaway. A 2013 U.S. Travel Association survey found that couples who take time to vacation together at least once each year report happier, healthier relationships compared to those who do not.
Here are four suggested summer travel ideas designed to heat up your relationship:
1. Take a road trip – A car ride together is the perfect opportunity to connect and converse. Limit the car ride to four hours and find an off-the-beaten path destination. Visit a nearby historic town, beach or small village on a lake or in the mountains. Great drive destinations include Mystic, Connecticut, with a collection of charming inns and outdoor activities including sailing, kayaking, paddle boarding, biking and hiking; and Virginia, which offers summer packages ranging from beach and spa activities to guided winery visits, bed and breakfast stays and photography tours.
2. Unwind together – Long-term couples say that relaxing is an important reason to travel together. Nothing is more indulgent than a full-service resort, complete – of course – with a couples massage. Resorts to consider include the Pointe Hilton Tapatio Cliffs Resort in Phoenix, Arizona, with summer package rates that start at $89 per night, and Geneva on The Lake resort in NY's Finger Lakes, with gardens, fine dining, a 70-foot swimming pool and lakeside boat house.
3. Take a vacation in the middle of the week – Sometimes the hustle and bustle of everyday life gets in the way of romance. Get out of the office and book a mid-week stay, which can yield big budget savings, from reduced hotel room rates, lower airfare, half-price theater tickets, restaurant specials, museum discounts and more. CityPASS ticket booklets (available for 10 U.S. cities) contain prepaid admission to top attractions and up to 50 percent savings.
4. Seek thrills – New couples see travel as an opportunity to share new experiences and adventures. Get your hearts racing by doing something daring together like skydiving, bungee jumping, zip lining, rock climbing or scuba diving. Thrill-seeking couples can consider Adventure Out, California's premiere outdoor school which specializes in surf camps, rock climbing classes, backpacking trips, mountain biking, and wilderness survival skills instruction.
"Don't let summer pass by without traveling with someone special," says Roger Dow, president of the U.S. Travel Association. "Whether planned or spontaneous, when weighing the cost and time of travel against the benefits to your relationship and love life, it is an easy decision: Take a trip this summer."
About Travel Effect
Travel Effect is a campaign of the U.S. Travel Association, the national, non-profit organization representing all components of the travel industry that generates $2 trillion in economic output and supports 14.6 million jobs. U.S. Travel's mission is to increase travel to and within the United States.