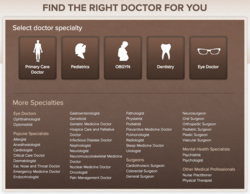 San Francisco, CA (PRWEB) June 27, 2013
BetterDoctor, the rapidly growing online doctor search service, announced today its new update that extends the service by 45 new medical specialties.
The BetterDoctor service enables users to:

Find the right specialist out of 1,000,000 pre-screened doctors among 50 different specialties
Search by 100 most popular health, dental and vision insurance plans
View doctor profiles with contact information, patient reviews, bios, photos and more
Bookmark favorite doctors and find them later on the web and iPhone
"The new specialty update lets users find the best specialist from 1,000,000 doctors in one place, " says Ari Tulla, CEO and Co-Founder of BetterDoctor. "It used to take hours to do the research before choosing the right doctor. Now it only takes a couple of minutes and users can find a trusted specialist who accepts their insurance."
BetterDoctor data scientists have spent years building a proprietary doctor directory that combines information from hundreds of data sources. The team has built sophisticated big-data and machine learning algorithms to turn billions of data points into the BetterDoctor verification system, where each BetterDoctor is validated against strict quality standards including:
Highly rated by patients

Active medical license
Passed malpractice and discipline record screening
Confirmed experience and education
Verified insurance plans
About BetterDoctor
BetterDoctor is an easy to use doctor search service on web and mobile phones that helps consumers find the right doctor who accepts their insurance plan. San Francisco-based company's mission is to simplify healthcare and make doctor search more transparent. BetterDoctor service was launched in September 2012 and has since helped a million patients find the right doctor. For more information and to find a doctor please visit betterdoctor.com or download the BetterDoctor app for iPhone.