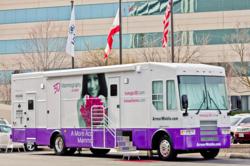 This new technology is a breakthrough in women's health and makes it easier for doctors to see if there's anything to be concerned about.
Tampa, FL (PRWEB) June 25, 2013
Florida Hospital Tampa is revolutionizing breast cancer detection by offering Tomosynthesis (3D Mammography) breast screening technology to patients effective September 1, 2013. Prior to launching the new service at the Florida Hospital Tampa Breast Care Center, the Hologic mobile coach will be at Florida Hospital Tampa on Wednesday, June 26 from 3pm to 6pm where employees and physicians are invited to climb aboard and learn about the science behind the new technology. Breast tomosynthesis helps radiologists identify and characterize individual breast structures in one millimeter slices without the confusion of overlapping tissue, leading a clearer image for diagnosis.
"We are dedicated to comprehensive breast care. This new technology is a breakthrough in women's health and makes it easier for doctors to see if there's anything to be concerned about. It also increases the rate of detection by 30-50% while reducing the need for patient callbacks by 30-40%. By offering 3D mammography, the Florida Hospital Tampa Breast Care Center continues to elevate health care in our community while providing the latest in imaging quality," said Alan Schneider, Vice President of Outpatient Services for Florida Hospital Tampa.
The hospital will be using the Selenia® Dimensions® breast tomosynthesis system, which is made by Hologic, a world leader in digital mammography. The Selenia Dimensions system offers exceptionally sharp breast images, and the advanced design enhances patient comfort. The ground-breaking tomosynthesis platform is designed to deliver superior screening and diagnostic performance. That is important since breast cancer is the second leading cause of cancer deaths among women, exceeded only by lung cancer, according to the American Cancer Society. By offering women the latest technology in mammography, Florida Hospital Tampa hopes to increase the number of women who will be screened, and ultimately save more lives through early detection. Breast cancer screening with tomosynthesis when combined with a conventional 2D mammography has a higher cancer detection rate than conventional 2D mammography alone. 3D mammography captures multiple slices of the breast, all at different angles. The images are brought together to create a crystal-clear 3D reconstruction of the breast. The radiologist is then able to review the reconstruction, one thin slice at a time, almost like turning pages in a book. That makes it easier to see problem areas and there's less chance for a cancer to hide behind overlapping tissue. The Breast Care Center at Florida Hospital Tampa offers a comprehensive breast program including breast cancer prevention, detection, treatment and recovery. The program is supported by board certified female radiologists and an all-female staff, including a patient navigator. The Breast Care Center is an accredited center of excellence by the American College of Radiology (ACR). Learn more at FHTampa.org.
The Florida Hospital Tampa Breast Care Center invites you to tour the Hologic Mobile Coach to learn more about this new service on Wednesday, June 26, 2013.
Wednesday, June 26, 2013 | 3:00-6:00 pm
Florida Hospital Pepin Heart Institute Entrance
Come learn more about 3D mammography:

Tour the Hologic Mobile Coach (tours run continuously from 3:00-6:00 pm)
Learn the science behind the technology
Learn how 3D imaging increases rates of detection and decreases the need for callback
About Florida Hospital Tampa
Florida Hospital Tampa is a not-for-profit 475-bed tertiary hospital specializing in cardiovascular medicine, neuroscience, orthopaedics, women's services, pediatrics, oncology, endocrinology, bariatrics, wound healing, sleep medicine and general surgery including minimally invasive and robotic-assisted procedures. Also located at Florida Hospital Tampa is the renowned Florida Hospital Pepin Heart Institute, a recognized leader in cardiovascular disease prevention, diagnosis, treatment and leading-edge research. Part of the Adventist Health System, Florida Hospital is a leading health network comprised of 22 hospitals throughout the state. For more information, visit http://www.FHTampa.org.
About Hologic, Inc.
Hologic, Inc. is a leading developer, manufacturer and supplier of premium diagnostics products, medical imaging systems and surgical products. The Company operates four core business units focused on diagnostics, breast health, GYN surgical and skeletal health. With a comprehensive suite of technologies and a robust research and development program, Hologic is committed to improving lives. The Company is headquartered in Massachusetts. For more information, visit http://www.hologic.com.