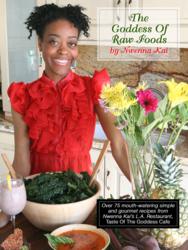 Nwenna Kai's knowledge of raw food - health benefits, preparation, presentation and passion - are extraordinary. Her food classes are not only informative but also fun and full of enthusiasm.

Jen Fletcher
Dunsborough, Australia
Philadelphia, PA (PRWEB) June 26, 2013
Raw foods specialist, Nwenna Kai, will be leading a class on how to purify the mind body and spirit with The 7 day raw foods Cleanse on Saturday, June 29th from 10am - 12pm at the Unitarian Society of Germantown in the Mt. Airy section of Philadelphia through the Mt. Airy Learning Tree.
This two-hour class will guide individuals on how to maximize their overall health by utilizing a strictly living foods diet. This dietary program introduces students on the cleansing principles capable of providing the body with maximum levels of energy. Nwenna's mouth-watering recipes are designed to specifically detox and cleanse the kidneys, liver, colon, and intestines. Included her dietary regime are juice concoctions, detox cocktails, and sugar-free desserts. Through guidance and coaching, Nwenna Kai will guide her students into an effective weight loss diet with the capacity to heal and lead to an overall healthier lifestyle. Students who participate in this class will be receiving handouts of recipes as well as samples.
About Nwenna Kai
In addition to being a world renowned raw foods expert, Nwenna Kai is an award-winning wellness entrepreneur, food activist, and author. For over ten years, Nwenna Kai has contributed to the health transformation of thousands around the world. She was the lead creator of one of Los Angeles' original vegan restaurant, The Taste of the Goddess Café. In addition, and is the creator of The 7 Days Raw Foods Cleanse and has appeared on multiple media networks including: E-Entertainment, The Travel Channel, The Philadelphia Tribune, Self Magazine, Heart & Soul Magazine, NBC's The Ten Show, & Purely Delicious Magazine.