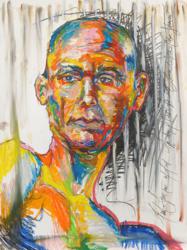 What is it about Santa Fe that provokes such a visceral reaction in so many people? I endeavor to discover why in this art project, "The Spirit of Santa Fe."
Santa Fe, NM (PRWEB) June 27, 2013
Some of Santa Fe's most fascinating residents will share their thoughts on their home, the 'city different,' after sitting as subjects for Spirit Capture portrait artist Robbi Firestone. Viewers will see Santa Fe through the eyes of participants and their oil portraits such as:
-Actress/Model Jill Momaday (Kiowa, daughter of Pulitzer Prize-winning author N. -Scott Momaday and wife of artist Darren Vigil Gray);
-Beloved living treasure Judge Mike Vigil;
-Shibana Singh, community leader, a yoga teacher, dietician, and healer;
-Doctor of Oriental Medicine Fiquet Hanna Duckworth;
-Linda McDill, President of New Mexico Women in Film;
-Armand Lara, Museum collected, legendary Navajo artist;
-and many more.
Firestone's trusted advisers nominated individuals who contribute to, and exemplify the spirit of Santa Fe, and represent its rich cultural diversity. Firestone is currently painting a series, The Spirit of Santa Fe, for an exhibition at Santa Fe's Casweck Galleries, 203 W Water St, Santa Fe, NM 8750, opening August 9, 2013.
Having recently relocated her art career in portrait commissions to New Mexico's state capital, Firestone decided to explore the city's strong magnetic pull by painting portraits of quintessential Santa Feans. She and the gallery also decided that a film should accompany the exhibition, to be shown during the art show and online.
This film will allow viewers access to Firestone's creative process, as well as the thoughts of subjects, bringing viewers into an intimate setting where Firestone and her subjects explore reasons why Santa Fe provokes such a visceral reaction in so many of its residents.
Although the exhibition will be up at Casweck Galleries for a limited time, the film will provide ongoing opportunities to engage with Santa Fe's most beloved subjects and the project itself via YouTube and on Firestone's website, http://www.RobbiFirestone.com.
During a sitting for a Spirit Capture portrait, Firestone explains, "The subject comes to my studio. We enjoy an intimate day of communion as I paint. We contemplate their obstacles and passions, what enlivens them, their life's desires, and what's holding them back."
"Toward the end of the painting process, I embed an affirmation into the painting that is unique to each person. It reveals, 'This the beauty I see in you. The limitless you. I don't care who you've been up to this point, this is who you are and I am going to do everything I can to support you in that."
Firestone also writes an intuitive, intimate 'Spirit Capture letter' on parchment, and gives it to them as a gift, while embedding calligraphic script into the fine oil painting itself.
Robbi Firestone says her Spirit Capture Portraits are her spiritual practice. The paintings are vivacious, vibrant, and saturated—not traditional portraits—and an intuitive letter focused on one's inner life is embedded into each painting. Firestone's creations especially appeal to musicians, athletes, and performers: people who appreciate the movement in her work.
The film maker, Craig Clark, has been a still photographer for 30 years specializing in commercial, portrait and art images. For the last 7 years, he has branched into digital film making, especially documentaries and shorts.
Robbi Firestone creates Spirit Capture Oil Portrait Commissions, focused on ones' inner, as well as outer beauty. Clients? Michael Beckwith of "The Secret," for her upcoming show, "12 Global Visionaries in 12 Months," Bart Millard of best-selling band MercyMe, and 3x Grammy winner Keb'Mo'. 10%+ charitably donated. Learn more about Spirit Capture Oil Portrait Commissions and Robbi Firestone's work at http://www.RobbiFirestone.com.
Contact:
Debrianna Mancini
debriannamansini2075(at)hotmail(dot)com
(505) 913-1435