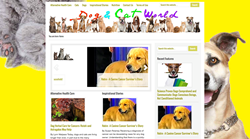 Dogs can comprehend, remember and differentiate between over 1,000 objects and can even categorize them
Toronto, Ontario (PRWEB) June 24, 2013
Dog and Cat World, the health, wellness and nutrition magazine for dogs and cats, focuses this week on the intelligence of dogs, and the bad habits of some cats.
"Science proves dogs comprehend and communicate: dogs capable of advanced thinking and problem solving"
New research from Wofford College revealed that dogs can comprehend, remember and differentiate between over 1,000 objects and can even categorize them. The research adds fuel to a push in various parts of the world to have dog/human relationships reclassified from owner/property to companion/companion.
According to this latest study, which adds substantial weight to a previous study from Germany, a border collie was able to fully comprehend over 1000 separate objects. Scientists believe this shows comprehension, rather than conditioning. The study was conducted by John Pilley and Alliston Reid, who are exploring "what do dogs actually understand when we use human language to communicate with them? The study was published in Behavioural Processes. Read more...
"Dog Herbal Care for Cancers: Reishi and Astragalus May Help"
Dogs and cats are living longer than ever, in part due to the many advances made in veterinary medicine to keep them healthier. Many human procedures and treatment options are available to pets that never were before, making a definite impact in expected lifespan. However, with the lengthening of pet lifespans there has also been an ever-increasing frequency of cancer being diagnosed, and especially in dogs.
Cancer treatments are yet one more area that human medicine has been applied to canine medicine, and to some extent it has been helpful. But many people today feel that caustic, dangerous and expensive cancer treatments are not the way they want to treat their dogs for these malignancies. It is with this in mind that alternative health care is definitely making its place in the treatment of dogs diagnosed with cancers. Read more...
"Cat Care: Inappropriate Urination in Cats: Steps to Stopping This Unwanted Habit"
Inappropriate urination is one of the most frustrating and destructive behaviors seen in cats. With just one accident outside of the litter box, inappropriate urination can quickly become an unwanted habit if not corrected immediately. Once the behavior becomes ingrained, breaking the pattern can be extremely difficult.
If your cat has begun to urinate outside of his litter box, first and foremost, he should be examined by your veterinarian. Many times cats will seem fine, but they might have a urinary tract infection – something that, at the least, can cause inappropriate urination and, at the worst, can indicate that a "blockage" is coming – bladder stones, or even kidney disease. If there is a urinary tract infection (or other disease process), a cat might urinate inappropriately because it's painful to hold his urine, or he experiences a frequent urge to urinate. If you've ever experienced a bladder infection, think of how you felt like you had to go every ten minutes. It feels the same to your cat, only your cat does not necessarily consider where he is urinating when he's "gotta go". Read more...
About Dog and Cat World
Since 2003, Dog and Cat World has covered health, wellness and nutrition topics in care of dog and cat companions. Our beats include:

Cat care
Dog care
Inspiration stories
Nutrition
Alternative health care.
Dog and Cat World is a publication of Zines Online, a service of Persona Corp.