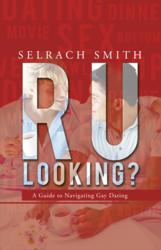 New York (PRWEB) June 26, 2013
Navigating the arena of gay dating can be a challenging world of headache and heartache. As a veteran of both the armed forces and the gay dating world, author Selrach Smith offers his new book, R U Looking?, as an up-to-date guidebook full of advice on how to approach dating in the gay community.
Smith shares his story and provides advice for those people who are trying to figure out what they are doing wrong in the dating scene. He approaches these topics in a positive, supportive way that will encourage understanding and productive action.
"Many books that currently exist on this topic are outdated," said Smith. "I wrote R U Looking? to provide an updated approach to dating, with the proper real-world context that readers need."
Smith provides advice about the actual dates, takes the confusion out of meeting new people, and helps you make that all-important positive first impression. He also tackles the tougher issues unique to dating in the gay community, making R U Looking? the de facto modern gay dating guide.
For more information, please visit http://www.rulookingbook.com or http://www.facebook.com/pages/R-U-Looking/175062022642373.
R U Looking?
By Selrach Smith
ISBN: 978-1475974560
Retail price: $11.95
E-book: $4.99
Available at amazon.com, barnesandnoble.com and iuniverse.com.
About the Author
Selrach Smith is a veteran of both the American armed forces and the gay dating world. He is a technology professional working in New York City who wrote his book full of gay dating advice after seeing his friends continue to make the same dating mistakes he made.