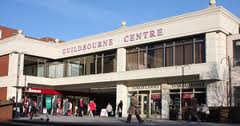 Smile With Confidence
Hove, East Sussex (PRWEB UK) 27 June 2013
Award-winning Brighton Implant Clinic will be opening a new practice location in West Sussex. Dr. Bruno Silva, Principal Dentist of the leading UK dental implants clinic, noted building works have commenced on the new practice's location in Worthing. The dental practice will be located on the first floor of the Guildbourne Shopping Center. It is scheduled to open within the next six months.
"Since 2009, we've served the dental needs of patients in East Sussex and throughout the UK. We're pleased to expand our services to serve the needs of patients in West Sussex access with our quality treatment options," says Dr. Silva. "Our facilities will be state-of-the-art and fully equipped to handle any patient need with promptness and care."
News of the new location in the Guildbourne Shopping Center has been greeted with enthusiasm by resident shopping centre retailers and business owners.
Brighton Implant Clinic's Worthing location will feature 13 operatories with cutting-edge equipment for administering treatments and a full-range CT scan room for streamlined assessment and diagnosing of patients' needs. An on-site dental lab will be a part of the new practice for swift, precise construction of dental treatments and appliances customized to each patient's needs. To let patients feel at home and complete comfortable, a recovery lounge will be available, furnished with top-quality furniture and an entertainment system. All of the location's facilities will accommodate every patient physical challenge conceivable, and will service a wide range of patient dental needs ably and fully.
"At Brighton Implant Clinic, all of our dental surgeons and staff are committed to empowering all patients to smile with confidence. We are focused on giving all of our patients a bright, healthy smile that lights up the room, and teaching them the information necessary for a lifetime of quality oral health," continues Dr. Silva. "Our top-flight dental implant surgeon team has placed thousands of implants over their careers, and our dental implant treatments are among the highest in our field, at a 98% success rate. A friendly, patient-centered clinic that is prompt and efficient in giving its patients quality treatment solutions and takes the time to explain all that is involved—that's the clinic we strive to be in our community. Our patients' health needs are our number one priority."
Brighton Implant Clinic has three clinic locations located in Hove, Hailsham, and Brighton, and is a two-time award winner of the Private Dentistry Awards. The practice's staff has collective experience of decades of implant placement and treatment services, and is internationally reputed for its world-class patient care and top-quality dental implant and treatment services, with patients venturing from as far as Australia and the United States for treatment.
Please visit http://www.brightonimplantclinic.co.uk to learn more about the practice's services and schedule a free initial consultation.