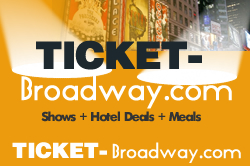 Pick your show, hotel quality level and restaurant for a great Broadway package now, at $199 per person this may be the cheapest deal available for a long while.
New York, NY (PRWEB) June 25, 2013
Broadway hotel packages including 3.5 star room accommodations at a hotel in the Times Square area, tickets to a top Broadway show, and $25 off of dinner all for only $199 per person may be booked by phone from Financial Firebird's Ticket-Broadway.com online site.
At the core of the package, look for hotels within walking distance from the Broadway theaters. The way this package operates in terms of hotels, customers may select a hotel quality level, such as 3.5 stars, 4 stars. 4.5 stars or even 5 stars. The exact hotel will be selected by the package system but will be at the desired star level and in the specific area bordered by 5th Avenue and 9th Avenue between 42nd Street and 55th Street. Ticket-Broadway.com weekend packages for specific hotels may be booked as well, but not as a part of this special discount offer for only $199 per person including hotel, tickets and dinner. To guarantee a hotel better than 3.5 stars, an upgrade charge will apply.
Broadway show tickets as a part of the package my be selected from six of the best Broadway musicals in New York City including Wicked, Jersey Boys, Motown The Musical, Spiderman, Matilda or Phantom Of The Opera, certain shows like Book Of Mormon, Kinky Boots, Lucky Guy or Lion King will require an upgrade. While consumers may choose the show they wish to attend, only certain performances qualify for the special package price. Some shows like Motown on Broadway offer options for most weekends while others such as Wicked New York tickets may be available at the special price only once or twice over the entire summer. For additional fees, fans may upgrade to better seats or pick a performance not eligible for the special $199 deal.
Restaurants near Broadway theaters that make up the package may be selected from a list of over a dozen options. In order to use the $25 off certificate, consumers will need to order two meals or a minimum dollar value for their meal such as $37.50. All restaurants lie within the same Broadway / Times Square area as defined for the hotel portion of the package. Food choices represent a variety of price points and types of food.
On top of the rest of these savings, people buying the Broadway hotel package receive a special code for $25 off of their next purchase of Broadway tickets. The discount may also be used for pro sports or concert tickets either in New York City or wherever people may wish to attend a performance.
With the cost of some hotel rooms of this caliber alone costing more than the price of this package, it can almost be thought of as getting the Broadway show tickets dinner and the future tickets coupon all as free bonuses. From the other point of view, sometimes, just Broadway show tickets and dinner costs over $199 per person. The offer applies to the entire summer but booking must take place prior to July 31, 2013. While fans may read more at the Ticket-Broadway.com site, this package must be reserved by calling Financial Firebird at 800 351 3301 and booking by phone. Pick your show, hotel quality level and restaurant for a great Broadway package now, this may be the cheapest deal available for a long while.
About Financial Firebird and Ticket Broadway
The site to buy Broadway Tickets online and its sister sites, including the Find Cheapest Tickets online site all geared for the consumers looking for low prices on tickets, are affiliated with the Financial Firebird Corporation Travel Group, and stand among the top sites sought by travelers and people who enjoy concerts, pro sports and theater performances. Financial Firebird Corporation provides unbiased consumer information, software and marketing services - established 2000 and a proud BBB member. These sites for consumers to buy tickets online operate in the resale market and maintain no relationship with the venues or performers, the resale ticket market allows consumers access to popular events once the box office has sold out or to buy premium seats when the venue no longer offers any inventory. Within the group of these secondary market ticket services the Financial Firebird owned ticket sites offer lower prices than competitors. Find the site at Ticket-Broadway.com.