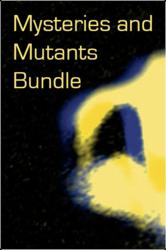 Los Angeles/Dallas/Toronto (PRWEB) June 25, 2013
The eBook Bundles collection of flash sale sites has announced its latest discount eBook Bundles, that go on sale today June 25, 2013. This week's Science Fiction eBook bundle features New York Times bestseller Piers Anthony, as well as three other authors, who explore the boundaries of mutation and human imagination.
48% OFF "Mysteries and Mutants" Sci-Fi eBook Bundle:
This week's Sci-Fi eBook Bundle includes: Mute, Piers Anthony introduces us to Knot, a mutant recruited for a dangerous space mission. Alien Infection is the story of a man who catches a spreads an alien virus which kills some and gives others back their youth. The last two books are A Catch in Time and 20 Years Later. These stories of mutants, their abilities and their adventures will be sure to keep you on the edge of your seat.
eBooks included in this bundle for $12.99:
Mute by Piers Anthony
Alien Infection by Darrell Bain
A Catch in Time by Dalia Roddy
20 Years Later by Emma Newman
About eBook Bundles:
At eBook Bundles, we love to read. So much so that it can get expensive! So, we created eBook Bundles to deliver best-selling authors and books to dedicated readers. We sell our books as bundles so that we can offer them at heavily discounted prices. Even if you already own one or more books in the bundle, the price is so low that you still get a great deal! Bundles are also our way of recommending new authors and books to you, based on ones you may already be familiar with. We know what a joy it is to discover a new author, and it's our goal to open your eyes to new writers, or the lesser-known works of authors you already love.
For further information, please contact:
eBook Bundles: (214) 613-5759
sales(at)ebookbundles(dot)com