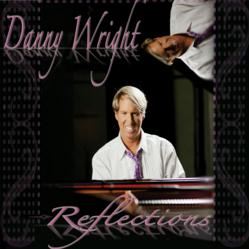 I thank God several times a day for the gift of music and the career it has made possible for me.
Las Vegas, NV (PRWEB) June 25, 2013
Danny Wright's gift for capturing a life or love story in music has become one of his many recognized talents over the years. Today, the popular composer, pianist and producer releases a double album that includes his latest original music as well as a dedicated cover of "Moonlight in Vermont." The album is available everywhere on June 25th, and select tracks will be debuted during his June 30th concert at Raue Center for the Arts (Crystal Lake, IL) this Sunday at 7 pm; tickets are $20 in advance, $25 at the door.
Referencing Reflections, with classy and stylish cover art true to the artist and his legacy, Wright says, "Having recently achieved a few long-term goals, it seemed a good time for a bit of reflection on my life and my music. I've been playing music since I was four, and recording music for nearly 30 years now. I thank God several times a day for the gift of music and the career it has made possible for me."
To date, the artist estimates he has done upwards of 160 songs commissioned by individuals to commemorate a loved one here on earth or already in heaven. These uniquely personal love songs often inspire online music videos, created by families and posted on YouTube; a search of "Danny Wright" turns up dozens of videos inspired by Wright's popular piano songs.
In a recent interview with Enlightened Piano Radio, Wright revealed a touching story of loyalty behind the dedication of the piece "Moonlight in Vermont" saying, "I reflect on the people who've helped me along the way, especially Ann Nestler, whose charming Woodstock, VT-based gift shop "Primrose Garden" was the first to play my music on cassette tape in 1985. Incredibly, she has played only my music all these years, filtering through the shop to the street outside, warmly welcoming tourists and locals. I am eternally grateful for her support." The rest of the songs are originals that Wright says, are inspired by people who have touched his heart and memorable events from his life.
Upon establishing his Las Vegas-based WH Sound Studio in 2012, Wright acquired the rights to the Moulon D'or catalog, and began re-mastering, re-packaging and re-releasing his back catalog in a combination of physical and digital formats, creating upwards of 30 available albums to date. The artist's shop also offers Danny Wright sheet music, Piano Disc, special products, gifts, licensing, custom compositions and direct purchase links via his official website.
The album, with a suggested retail price of $15.99, is available at leading retailers, and online at iTunes, Amazon. The artist's physical distribution is handled by CPI Distribution, digital downloads by BFM Digital, and specialty stores are serviced by Music Design; the label is currently seeking distribution deals in foreign territories via Planet Works Entertainment.
Fans can connect with Wright at Facebook: http://www.facebook.com/DannyWrightFanPage and on YouTube at http://www.youtube.com/user/DannyWrightDWF.
For review copies, interviews and promotions, please contact publicist Beth Ann Hilton at bethhilton(at)thebcompany(dot)com. For bookings, contact Paul Bongiorno at Starvox Entertainment. For additional information and special orders, call WH Sound Studio at 702-724-0918.
Track List:
1. Reflections 3:41
2. My Dearest Angel 4:38
3. The Story of Us 6:01
4. One World 5:11
5. Stand Tall 4:48
6. Our Journey Together 5:07
7. The Giving Soul 6:16
8. Dancing With The Angels 4:01
9. Frances' Theme 4:52
10. Sister's Love 5:23
11. Forever Giving 4:32
12. Gateway To The Soul 5:44
13. No Dragons To Slay 5:16
14. Song for Evie 5:30
15. My Loving Son 4:49
16. She Keeps My Heart 3:59
17. Mary's Theme 5:26
18. Moonlight in Vermont 3:22