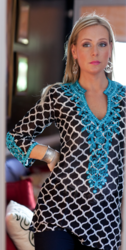 New York, NY (PRWEB) June 27, 2013
The Yatra Collection founders have long celebrated the work of the artisans that bring their apparel and jewelry designs to life as just that – art.
Next month – from July 5 to 7 – the Yatra Collection will be displayed and available at a treasured gallery – KMR Arts.
Located at 2 Titus Road in Washington Depot, CT, KMR Arts opened in June 2007 as a fine art gallery specializing in photography. KMR Arts exhibits group shows, using a thematic approach to present a variety of photographers both from the fine art and editorial worlds.
The gallery showcases both vintage and contemporary photography from the 19th, 20th an 21st centuries, as well as a variety of photographic techniques. KMR Arts presents photography in a non-traditional gallery environment, appealing to both the first time buyer and the seasoned photography collector.
"Yatra collections are an homage to the India of our grandmothers, but with a contemporary edge," said Rati Bahadur, who worked with Gayatri Khosla to co-found the Yatra Collection, an independent fashion label featuring an artistic line of India-inspired apparel and accessories. "To be featured in a gallery that celebrates the beauty found in all things vintage and modern is an honor."
Yatra, in Indian traditions, means journey, or procession. And that's what the collection has been for Khosla and Bahadur, long time friends who attended boarding school together in India and realized their dreams of one day merging their creative interests in fashion to create their own label.
The Yatra Collection focuses on simple silhouettes, classic pieces and perfect tailoring. It pays homage to the India of Khosla and Bahadur's grandmothers, but with a contemporary edge.
The clothes represent the vibrancy of everyday India. Khosla and Bahadur do not decide on a color palette until they travel to India and absorb the streets, the bazaars, the food, the music, the conversation and textures of life in cities big and small.
The current line includes, among other pieces, hand beaded tunics, hand dyed stoles with suede fringe, hand crafted jewelry and stoles detailed with the borders of heirloom saris.
"Our philosophy is to offer handcrafted designs and promote artisans and trade from India," said Khosla. "This is fashion with a social mission."
ABOUT THE YATRA COLLECTION: WOMEN WITH A MISSION
Long time friends since they were together at boarding school in India, Gayatri Khosla and Rati Bahadur knew that they would one day merge their creative interests in fashion and design to create their own label. Their complementary styles, interests and expertise have allowed them the freedom to bring the vibrancy and exclusive hand-craftsmanship of India to the western shores.
They design and work with high-end artisans to put together a collection a few times each year. The co-founders travel to India and immerse themselves in the chaos, and the vivid abundance of exquisite craftsmanship of artisans, two aspects that exist side by side and are so typical of India. It is in India that the designs come to life.
Learn more about the Yatra Collection here.