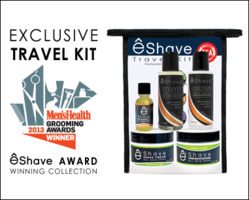 eShave; Simplicity and refinement
Toronto, ON (PRWEB) June 27, 2013
Online retailer Kaliandee is to debut eShave's special edition travel kit, created by eShave to celebrate winning their fourth consecutive Men's Health Grooming Award. The kit features their Award Winners; the Orange Sandalwood Pre-shave oil, Verbena Lime Shave Cream, Verbena Lime After Shave Soother and Orange Mint Triple Action Conditioner. The addition of their Triple Action Shampoo kit provides a complete travel grooming regime for the sophisticated modern man. With this recent debut, Kaliandee added a well-respected North American brand to its portfolio in mind to offer customers an expanded selection of grooming and shaving products with a unique twist and versatility.
New York based eShave have been bringing a fresh take to the luxury of traditional shaving and grooming products since their inception in 1996, with the goal of creating "All A Man Needs for the best shave Ever". Well-received by wet-shaving enthusiasts from the start, eShave became known to men around the world when they won the first of several Men's Health Magazine Grooming Awards in 2010. In early 2013, eShave put their experience in creating men's shaving products to good use with the launch of their New Generation of skin and hair care products, including their Triple Action Shampoo and Conditioner.
The latest Award given to eShave by Men's Health Magazine is for their Triple Action Conditioner, packed with natural ingredients and scented with a refreshing Orange Mint scent. Formulated with soothing ingredients to help reduce dandruff, caffeine and menthol to stimulate the follicles and encourage hair growth and a blend of wheat, soy and corn protein to give body, the Triple Action Conditioner (and Triple Action Shampoo) effectively deals with the three most common issues men have with their hair.
"Best Hair Conditioner of 2013" is the first award eShave have received for a non-shaving product (their first was for a Pre Shave Oil), and reflects their commitment to creating an innovative and comprehensive line of men's products. In response to the latest award, eShave founder Danielle Malka said "We are honored that eShave's new Triple Action Conditioner has been selected to win this year's Men's Health Magazine Grooming Award. This award is an affirmation that our efforts to be 'All A Man Needs' has been met with great success."
eShave's greatest strength is arguably their ability to bring a very modern aesthetic to traditional products, adding a twist to conventional scents, and designing fashion forward shaving hardware. While the new travel kit is probably the best introduction to the brand, aspiring wet shavers may also want to consider one of their wet-shaving Start Up Kits, available in a selection of scents. For the wet-shaver who already has a shaving brush, the Mini Shaving Travel Kit with assorted fragrances has Shaving Creams and After Shaves in White Tea, Lavender, Verbena Lime and Orange Sandalwood scents.
About Kaliandee:
Kaliandee is a fast growing online retailer dedicated to bringing the best of grooming, shaving, fragrances, gifts and leather goods to North American men and women. Kaliandee is continuously growing the shaving and grooming portfolio by offering viable alternatives for the wet-shaver enthusiast and gift givers. To purchase the latest eShave products and many others, please visit us on http://www.kaliandee.com and http://www.kaliandee.ca.
For more information on getting started with wet-shaving, see Kaliandee's advice page or blog.
sales(at)kaliandee(dot)com