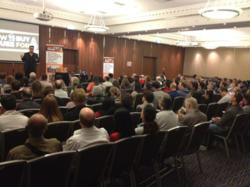 Those present will learn how to structure property transactions to generate positive growth and cash flow from day one. They will walk out of the event feeling inspired and motivated to take charge of their financial future
(PRWEB) June 25, 2013
Real estate educator, Rick Otton, has warned Australian investors that seating is strictly limited for his 'How to Buy a House for a Dollar' tour of major cities this month. Mr Otton says property investors should register early for the series of one-day events in Sydney, Melbourne and Brisbane where he will share his innovative real estate investing strategies.
"Bookings are accepted on a first-come, first-served basis. To avoid disappointment, I urge aspiring property investors to reserve their free seat while they remain available," Mr Otton said.
For the past decade, Mr Otton has mentored tens of thousands of people in Australia and overseas on his 'no-money-down' creative real estate strategies.
During the 'How to Buy a House for a Dollar' tour, the real estate millionaire will show participants five cutting-edge methods for buying property without a bank, a loan, deposit, stamp duty or any previous investing experience.
"Those present will learn how to structure property transactions to generate positive growth and cash flow from day one" explained Mr Otton. "They will walk out of the event feeling inspired and motivated to take charge of their financial future," Mr Otton said.
"They may even use my proven strategies and buy the options on one, two, three properties for $1 and create several cash flow streams. All that is needed is willingness to approach real estate investing in Australia in a non-traditional way."
One Day Intensive
Mr Otton said each one-day intensive event was a 'straight-talk workshop' jam packed with live demonstrations, interactive exercises and activities – all created with the aim of teaching students how to speedily build a property portfolio of cash-flow positive real estate.
He said his strategies, tactics and methods were particularly relevant to the thousands of Australian families and would-be investors struggling to realise their dreams of home ownership.
"We have property owners who are going broke trying to pay off their negatively geared properties. We have sellers who are struggling to sell their property in this cash-less economy," Mr Otton said.
"The traditional model of buying and selling houses isn't effective any more" he explained. "There's never been a more important time than now for the Australian public to discover and implement my strategies for no-money-down real estate investing so that they never have to stress about interest rates or the economic fluctuations again."
For full details of Mr Otton's Sydney, Melbourne and Brisbane open-to-the-public one day seminar visit HowToBuyAHouseForADollar.com or phone, in Australia 1300 888 450.
About Rick Otton
Rick Otton has spent decades making money by snapping up inexpensive real estate and putting it to work building wealth, and teaching others to do the same.
He is the founder and CEO of We Buy Houses, which operates in the US, UK, Australia and New Zealand, and through this business he puts his strategies to work every day.
Mr Otton received his start in alternative real estate investment in 1991 in the US, and within a year acquired 76 properties. In subsequent years, he made a fortune using his low-risk, high-reward strategies to inexpensively acquire real estate. He continues to do so.
As well Mr Otton travels between his home in Australia, and the UK, sharing his wisdom and teaching others how to buy and sell real estate, free from the constraints imposed by traditional lenders.
In 2013 Rick is celebrating the 10 year anniversary of introducing his property option strategies to real estate investors in the United Kingdom – the first person to reveal these ground-breaking strategies. In 2008 he created the first of his 'Houses for a Pound' strategies, upon which he grows as markets and laws evolve.
Mr Otton has been featured in a variety of television programs and magazines and in 2013 he published 'How To Buy A House For A Dollar' for the Australian market. This book has been named in the list of the Top 10 Most Popular Finance Titles for 2013, as voted by Money Magazine and Dymocks Book stores. A UK version is on the drawing board.
For full details of Mr Otton's Sydney, Melbourne and Brisbane open-to-the-public one day seminar visit HowToBuyAHouseForADollar.com or phone, in Australia 1300 888 450.