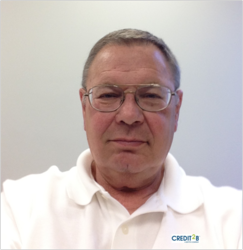 New York, NY (PRWEB) June 25, 2013
Credit2B (formerly Smyyth Credit Services, Inc. and Bernard Sands LLC), a leading provider of credit solutions, expands its new Advisory Board aimed at powering innovation for experts across disciplines of finance, technology and global trade. Credit2B was built on a really simple idea - the best source of intelligence on a customer comes from the systems and expertise of trade suppliers who sell to that customer ("Intelligence of the Community" at Credit2B.com).
E. John Broderick, formerly President of Smyyth Credit Services, and a nationally known figure in the credit information business, will assume a critical role in the guidance of the Advisory Board, which is an integral component of this client-centric solution. John's role with several trade credit associations, including the Federation of Credit and Finance Professionals (FCFP") will play a key part in this effort.
John was leader of Smyyth's management recruiting business, and led development of its virtual credit communities, the latter of which became one of the foundations of Credit2B. He has guided the firm and its new management team as a coach, mentor and friend and will continue to lend that support going forward.
"We are really pleased to have John join our Advisory Board," said Shyarsh Desai, CEO of Credit2B. "His knowledge, insight, experience and network of industry contacts are invaluable to building a platform where the credit practitioner is the real expert."
Stated Mr. Broderick, "I am very pleased about my continued involvement as an adviser to Credit2B. Credit2B is the first true innovation in this industry in decades, and it is energizing to be part of this exciting movement."
About Credit2B
Credit2B provides world-class on-demand business credit intelligence, including reports, predictive scoring, and a peer-to-peer exchange of trade experiences on common customers. Built as a cloud-based application, Credit2B today delivers remarkably high quality and timely information which is validated by a network of trusted connections. Credit2B is simple to join, create connections on shared customers, and access huge amounts of information from peers and third party credit bureaus through a high-fidelity experience.
Please visit http://www.credit2b.com for more information about Credit2B products and services.
About Smyyth
Smyyth provides world class Credit-to-Cash and accounts receivable services that the world's largest companies use to manage risk and optimize cash flow and profits using best practices for credit, accounts receivable, collections and deduction management. The Smyyth technology platform streamlines operations, slashes costs, and increases profits. Smyyth technology and services are built on Six Sigma principles and are SSAE 16 Compliant.
Please visit http://www.smyyth.com for more information about Smyyth products and services.