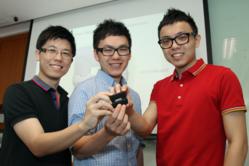 (PRWEB) June 26, 2013
Organized by The Hong Kong Polytechnic University (PolyU) as a major initiative to embrace internationalization, innovation and entrepreneurship, PolyU Innovation and Entrepreneurship Global Student Challenge (GSC) 2013 has attracted 228 teams from secondary schools and universities from 34 countries and territories.
The biennial competition not only provides a unique opportunity for students to develop innovative and entrepreneurial potential, but also broadens their global perspective and networks.
According to GSC Organizing Committee, participants have to choose to work on their business proposals under one of the four sub-themes: (1) Health and Wellness, (2) Lifestyle, (3) Environment and Sustainability, and (4) Corporate Social Responsibility / Social Enterprise. Each three- to four-member team is required to submit their business proposal with originality and creativity.
A PolyU team has advanced to the GSC Semi-Final with their innovative product the Hummingbird, a charger that can help to solve the bulkiness and long recharging time of traditional external battery packs. An ultra-small, fast-charging and Qi-Wireless capable external battery, the Hummingbird can be recharged within a few minutes and is able to deliver infinite power. Charging stations will be made available at convenient stores and cafes, making it an innovative charging solution ideal for the hectic urban lifestyles.
The PolyU team is among the 30 finalist teams in the University Division. Another 30 teams have also been shortlisted for the Secondary School Division (see attached for full list of shortlisted teams). They will present their innovative business proposal to the panel of judges at the Semi-Final on 24 June and then compete for a place in the Final to be held on 27 June.
The judging of business proposals are based on four criteria: innovation and creativity, technical soundness, organizational plan and management structure, and projection of financial performance. The participating teams will also be judged during their presentation performance by their effectiveness of delivery, time management and Q&A session.
The judging panel of GSC 2013 is composed of a total of 30 Semi-Final and 11 Final judges with diverse experience coming from all over the world, all of them being renowned academics and senior executives in their respective fields. In addition, 15 overseas academics from globally renowned institutions have been invited to play the role of international advisors as well as judges to provide top tips for students preparing for the Challenge and add international dimensions to the judging mechanism of the competition. They will also meet with the participants of the Secondary School Division after the Semi-Final competition, providing feedbacks and comments on their performance.
Morever, all finalist teams are required to produce a 60-second video for their business products/services in the format of "Elevator Pitch". The video will be broadcast at the Semi-Final, Final and the Gala Ceremony on 27 June evening.
Winners of Gold, Silver, Bronze, Commendation Awards as well as the Theme Award and Best of the Best Elevator Pitch Award for each division will be selected and announced at the Gala Ceremony. All winning teams will be presented with a trophy and cash prizes, and each individual team member will receive a certificate.
During their stay in Hong Kong, GSC participants will have ample opportunities interacting with their peers through an array of activities accompanied by PolyU Student Ambassadors. The comprehensive excursion programme range from educational visits to the Hong Kong Science Park and Cyberport to fun occasions such as Ocean Park visit and Tai-chi experience.
The University is grateful to the following sponsors for their ardent support to GSC:
Emerald Sponsors
Chevalier Group
The Mira Hong Kong
Official Carriers
Cathay Pacific Airways Limited
Hong Kong Dragon Airlines Limited
Supporting Organizations
The Hong Kong Cyberport Management Company Limited
The Hong Kong Science & Technology Parks
Co-organizer
International Strategic Technology Alliance
For more details about GSC 2013, please visit the official website at URL: http://www.polyu.edu.hk/polyuchallenge
*****
Press contact: Ms Caroline Tso
Senior Manager, International Affairs Office
Tel: 8-522-766-4518
Email: caroline.tso(at)polyu(dot)edu(dot)hk