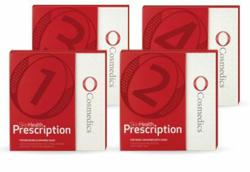 We are all about talking to the cells when the skin's not listening – that's the cosmedical difference
Sydney, Australia (PRWEB) June 27, 2013
Australian cosmedical brand O Cosmedics has released its latest offering (and much in demand) FOUR innovative Skin Health Prescription Kits.
Designed with highly active, medical-grade ingredients, the new range works beyond the skin's surface to transform cells and promote healthier skin function.
Each skin health prescription kit is designed with a specific skin condition in mind and provides four key treatment essential products to return the skin to normal skin function and ensure optimum cell communication.
Prescription Kit 1 is designed for weakened and impaired skins, and works to assist with skin repair and strengthening, all while reducing inflammation. The Gentle Antioxidant Cleanser and Exfoliating Cleanser work to thoroughly clean the skin and remove dead skin cells, while the Repair Serum and Recovery Cream gently rejuvenate and support the skin's repair mechanism to help restore it's protective barrier and dramatically assist reduction of cellular inflammation.
Prescription Kit 2 corrects ageing skin through the high percentage of V8 peptide complex in both Pure Age Defiance and Immortal Cream. Described as "a muscle relaxant on a drip" the V8 peptide complex works behind the scenes on the essential cell structure to age proof the skin and accelerate healing and rejuvenation giving ultimate skin health and skin youth. This also includes the Gentle Antioxidant Cleanser and the Exfoliating Cleanser.
Prescription Kit 3 provides relief to those with challenged skins by working to rectify problematic symptoms of congested and hormonally unbalanced skin. A true treatment solution the kit includes Corrective Cleanser & Peel and Exfoliating Cleanser to purify and free the skin of embedded dirt, makeup, sweat, dead skin cells and damaging pollutants. Potent Retinol Serum used in conjunction with the Rebalancing Cream work to regulate cell function and rebalance the skin. A true skin savior.
Prescription Kit 4 is designed with all skin types in mind, consisting of four key products working to normalise skin function and cell optimization giving the skin a true chance of achieving optimum skin health. The Gentle Antioxidant Cleanser provides a clean skin canvas, the Potent Retinol Serum restores cell function, Pure Age Defiance Serum ensures ultimate cell hydration therefore communication and Immortal Cream offers five star age defying skin support.
O Cosmedics differentiates itself from other skincare brands by providing potent, active ingredients that are scientifically proven to transform skins or as O Cosmedics founder Marie Enna-Cocciolone puts it, "We are all about talking to the cells when the skin's not listening – that's the cosmedical difference!"