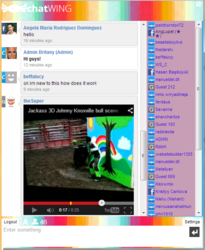 Seattle, WA (PRWEB) June 25, 2013
Chatwing.com, a company that creates widgets, currently presented a new feature known as chat network. The goal of the feature is to create global connectivity among thousands of users worldwide. In just minutes, users can access the chat network setup in their dashboards, along with different chat software customization options. The developers have foreseen that this feature can help any online marketer reach their goals.
The Chatwing Team has always focused on straightforward user experience. When the developers overhauled the customization options offered by the chatroom, it received many positive feedbacks from end users. These users were able to create widgets according to their preferences. They were also able to create chatrooms that complement the overall styles of their websites, contributing to high visibility rates.
The latest chat software network feature offered by Chatwing Team puts a user on a different level of communication. Once his chatbox is linked to other chat boxes, he will gain utmost advantage in global connectivity. Apart from that, his website can also gain maximum exposure. Chatwing developers also believe that the chat network feature can ensure the success of online marketing and branding campaigns. They pointed out that it can happen in a step-by-step basis.
To keep users well-informed, the Chatwing chat app team will put updates in their official Facebook page. In this way, people will know more about the importance of chat networks to everyday lives. As a bonus, the developers will also post some pieces of advice regarding the proper use of the Chatwing chat app.
About Chatwing.com
Chatwing.com specializes in the new field of live website chat software. Over years, the Chatwing team has introduced live chat widget for hundreds and thousands of blogs. The Chatwing application bridges people from many parts of the world, creating global synergy through the Internet. The shout box can be installed in just seconds, and it can be used for varying purposes such as leisure and Internet marketing. It also allows a user to customize the size, color, and name of the widget.