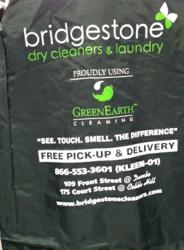 Overall we are keeping around 55,000 out of landfills
Brooklyn, NY (PRWEB) June 25, 2013
Brooklyn green drycleaner Bridgestone Cleaners has announced it is doing away with the paper shoulder guards that are commonly sent home with dry cleaning. This change will result in a huge savings for the environment, as Bridgestone Cleaners would be keeping over 55,000 pieces of the paper shoulder guards out of landfills each year.
"The main thing about the paper shoulder guards is that they are the thing that you take off your cleaning and immediately throw in the trash," says Bridgestone Cleaners' Zach Kinzer
These pieces of paper are mainly advertising tools and serve little purpose otherwise according to the Brooklyn green drycleaning experts.
"Overall we are keeping around 55,000 out of landfills."
Coming off their month long celebration of Earth Day, the Brooklyn green cleaners are always looking to educate their neighbors about keeping Brooklyn clean. Their locations use GreenEarth Cleaning and they have another way of breaking from the traditional plastic clothes bags to minimize their environmental footprint.
"We also offer our regular customers the option of no plastic at all. We send their clothes back in a reusable garment bag which they recycle with us," said Zach Kinzer.
About Bridgestone Cleaners
Bridgestone Cleaners are Brooklyn's real green dry cleaning serving brownstone Brooklyn: Red Hook, Cobble Hill, Williamsburg, Prospect Heights, Fort Greene, Park Slope, DUMBO, Windsor Terrace, Carroll Gardens, and Brooklyn Heights. Call 718-222-9958, or visit our Dumbo (109 Front Street) or Cobble Hill (175 Court Street), Brooklyn, NY locations. Follow us on Facebook.