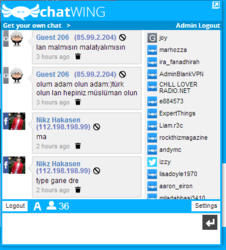 Los Angeles, CA (PRWEB) June 26, 2013
Los Angeles, CA – The travel community will always have subscribers because of the prominence of travel perks and trends. This is based on the several niche studies conducted by Chatwing.com. With these studies, the developers of the company launched its latest chatroom network system—a feature that interconnects user chatrooms under one group or niche. This is a useful feature that can heighten the exposure of any website or blog.
Website owners under the travel niche can benefit from the chat app network feature in terms of connectivity and subscriber build-up campaigns. These website owners can share their travel services to other users at a rapid pace, pitching tons of information on a regular basis. This information can be all about travelling perks, exotic locations, culture analysis, travel blog entries, travelogues, and even the best deals on travel gears.
The Chatwing Development Team spent months trying to figure out how to create better connectivity setup for all of their users. Eventually, they came up with the chat network solution. To utilize this communication advantage, the user can go to his dashboard and just select from the available chat networks—in just one click, the chatroom will be connected to other chatrooms. Aside from that, the dashboard also features cutting-edge customization choices that can help the user come up with different chat app designs.
Chatwing's developers believe that information is important in the travel community. Without the proper relay of information, website owners won't have much exposure and their websites will go down in just days or weeks. Chatwing's chat software network system is a marvel for all web users in various niches.
About Chatwing.com
Chatwing.com specializes in the new field of website live chat software. Over years, the Chatwing team has introduced live chat widget for hundreds and thousands of blogs. The Chatwing application bridges people from many parts of the world, creating global synergy through the Internet. The shout box can be installed in just seconds, and it can be used for varying purposes such as leisure and Internet marketing. It also allows a user to customize the size, color, and name of the widget.