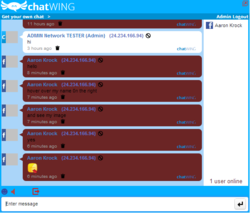 San Francisco, CA (PRWEB) June 27, 2013
Anime fans and community visitors can now utilize the connectivity leverage offered by Chatwing's newest feature: chat network system. Through the chat software network feature, users can link their chatrooms together under a single niche or network. This feature has long been in the plans of Chatwing's developers and they realized that this is a good time to release it. The chat network feature can be accessed by users in their chat widget dashboard.
Anime fans can talk about their favorite anime shows in Chatwing's chat networks. They can also discuss their favorite characters from these shows, as well as famous Manga creations. Chatwing's developers have also suggested that Anime fans talk about cosplay tips and other information about cosplay events. Anime merchandise discussion will also become common in the chatroom network system.
Accessing the chat network system takes only few seconds. After registration, the user can proceed to his dashboard and select from the available groups. These groups will always be updated by Chatwing's developers. Once a group is selected, the use can now edit the overall appearance of the chatbox. Once the chat app is already active, it will now be connected to other chatrooms within the network or group.
One of the main goals of the Chatwing chat app network feature is better visibility rate. This is useful, not just for Anime fans, but also for other users in different communities as well. Apparently, the feature can also help videos and advocacies in the viral marketing setting. Currently, the Chatwing Team is planning to add different networks related to sports, businesses, finance, and global events.
About Chatwing.com
Chatwing.com specializes in the new field of website live chat software. Over years, the Chatwing team has introduced live chat widget for hundreds and thousands of blogs. The Chatwing application bridges people from many parts of the world, creating global synergy through the Internet. The shout box can be installed in just seconds, and it can be used for varying purposes such as leisure and Internet marketing. It also allows a user to customize the size, color, and name of the widget.