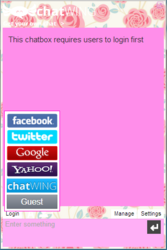 Seattle, WA (PRWEB) June 28, 2013
Chatwing's expansion to the Wordpress community is now in full swing as the developers launched its latest chatroom tool. This new chat tool is optimized for Wordpress users and has vital features such as social media integration, wide-scale customization options, efficient banning system, endless message history, and chat network setup. According to Chatwing's developers, the recent chatroom has the potential to increase the visibility of a Wordpress site by up to 65%.
Wordpress niche bloggers can use the Chatwing chat software to generate traffic naturally. The Chatwing team realized that if a website has a chat lounge, visitors will have the opportunity to discuss several topics. Alternatively, the website owner can share important updates in real-time, rather than posting entries which may take a day or two. Installation of the Chatwing tool can be accomplished in just seconds, including the customization process.
In the customization phase, the Wordpress site owner can choose from Chatwing's selection of color schemes. He can also create a color scheme from scratch—a result of combining different colors, design, and font styles. Creative background images are also available in the dashboard, if the user is in rush and doesn't want to create appearance wholly. The images in the dashboard have astounding designs to begin with.
Social media is also an important part of the Chatwing chatbox. Now, users can log in with Facebook, Twitter, Google, and Yahoo accounts. This is the reason why many online marketers are now installing the Chatwing tool for their blogs and websites. There is also an opportunity for users to link their chatrooms together in a single group or niche, highlighting the widget's potential for global communication.
About Chatwing.com
Chatwing.com specializes in the new field of website live chat software. Over years, the Chatwing team has introduced live chat widget for hundreds and thousands of blogs. The Chatwing application bridges people from many parts of the world, creating global synergy through the Internet. The shout box can be installed in just seconds, and it can be used for varying purposes such as leisure and Internet marketing. It also allows a user to customize the size, color, and name of the widget.