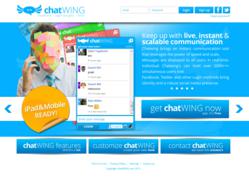 Chicago, IL (PRWEB) June 29, 2013
Based on the preferences of many users across the World Wide Web, Chatwing.com launches a Wordpress chat app with new color schemes. These color schemes can be used for different niches and purposes and they can be freely modified in just seconds. Also, Chatwing's developers added new login options: Google and Yahoo. With these login options, more people can use the Chatwing tool with relative ease.
Chatwing's color schemes can be set in the user's account dashboard. In just few clicks of the mouse, the user can design any scheme that he wants. If he prefers a lighter scheme, he can combine colors and various font styles. Chatwing widget also allows CSS setup to grant more customization choices to the techie user. Chatwing also has a banning system to help users preserve the overall integrity of the chat software. In just few clicks, the chatroom admin can ban obnoxious members and he can even set how long they will be banned.
Currently, visitors of the Chatwing chat app can log in with their Facebook, Google, Twitter, and Yahoo accounts. This social media advantage is a big step for the company. Not only will this ensure the continuous influx of web users, but it can also help everyone in terms of proper data relay. Chatwing tool is also about real-time communication, so users won't have delays regarding the information they need. This is the reason why the Chatwing app can be an effective update tool.
To help Wordpress users understand the importance of the Chatwing chatroom, the company's developers will post informational content in Facebook. Aside from that, the developers will also communicate with website owners and bloggers in order to share tips, experiences, and social relevance.
About Chatwing.com
Chatwing.com specializes in the new field of website live chat software. Over years, the Chatwing team has introduced live chat widget for hundreds and thousands of blogs. The Chatwing application bridges people from many parts of the world, creating global synergy through the Internet. The shout box can be installed in just seconds, and it can be used for varying purposes such as leisure and Internet marketing. It also allows a user to customize the size, color, and name of the widget.