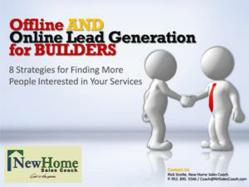 Think of the combination of your website, blog, and social media as your 'virtual model home' or a 'virtual showroom.'
Minneapolis, Minnesota (PRWEB) June 25, 2013
Home builders and home remodelers are fast finding that the "old ways" of marketing to generate new leads aren't nearly effective as they were in the past. To help, Rick Storlie of New Home Sales Coach announces a new webinar series that covers new approaches to generating quality leads online and in the community.
"Today, the majority of prospects are shopping and doing research online, so developing a virtual lead-generation strategy combined with updated non-virtual marketing strategies has become critical for landing new business and remaining competitive," said Rick Storlie, CEO of New Home Sales Coach.
New Home Sales Coach specializes in sales training for home builders and remodelers focusing on effective techniques to meet and exceed annual sales goals.
The free training series, "The Perfect Pricing Paradigm: How to Avoid the 5 Most Common Mistakes When Presenting Pricing to a Prospect," covers the six most effective non-virtual lead generation strategies and teaches the latest techniques for contractor lead generation online.
"Coach Rick," as Storlie calls himself, explains that most home builders and home remodelers need to ramp up their lead generation systems in the online world.
"Many have a website, or have dabbled with social media, but they don't know how to do it correctly," Storlie said. "Think of the combination of your website, blog, and social media as your 'virtual model home,' or a 'virtual showroom.' The goal is to provide the same kind of information and experience that you would if your prospect was walking into your actual model or showroom."
Storlie also notes that many home builders run online ads incorrectly and get poor return on investment. In the series, he reviews techniques for running successful online advertisements without breaking the bank.
In addition to online strategy, Storlie will offer recommendations for the best approach to non-virtual marketing and lead generation, including model homes, print, events, networking with Realtors, geographic farming and referral strategies.
Once effective lead generation strategies have been explained, Storlie will connect each lead type to the optimum timing for pricing discussions.
"Often my new students don't understand the connection between the sources of their leads, and the proper timing for discussing pricing," said Storlie. "The two are actually closely related. Knowing the perfect timing to present pricing options can make a huge difference in both the volume of closing sales for home builders and remodelers, and in the final agreed-upon price."
For more information and to access the free New Home Sales Coach marketing training for home builders and remodelers, go to: http://www.nhsalescoach.com/landing-the-perfect-prospect
About Rick Storlie:
Rick Storlie of New Home Sales Coach has been helping builders and remodelers reach their sales goals since 1992. Visit NHSalesCoach.com to access Rick's free Sales and Marketing Library full of tips – from generating new leads, Realtor strategies, sales techniques and sales management secrets. Storlie can be reached at 952-895-5566 or SellMore(at)GameDayCoaching(dot)com.