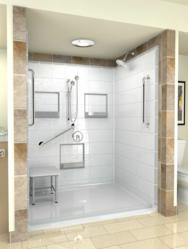 The highest quality roll in showers on the market today!
New York, NY (PRWEB) June 25, 2013
A popular provider of walk in bathtubs and wheelchair access roll in shower systems announces an enhanced informational page on their website for handicap shower stalls. This improvement includes more detailed information on the materials used in the manufacturing process of these special wheelchair accessible showers.
In addition customers with impaired vision will appreciate the extra large expandable print option; further outlaying details of the premium roll in shower line. These unique showers come with built in padded seats, internal safety grab bars and handheld shower wands. The thresholds vary in size, ranging from .75" up to 1.75".
The handicap showers may potentially be a great option for senior citizens that are looking into options for aging in place and for those who have disabilities which inhibit bathing independently. In addition the roll in showers and walk in bathtubs come standard with slip-resistant floors. These unique safety features, which are not commonly found on many traditional bathing appliances, can be a welcomed option for bathers who have a fear of falling in the bathtub.
According to Aging Safely, the handicap shower page will also be easier to navigate. Customers will now have the option to toggle between multiple sizes of wheelchair access showers. Most of the company's bathroom appliances can be customized according to the client's individual needs and preferences. Numerous hydrotherapy walk in tub options can be viewed online as well.
Aging in place is becoming a very popular term these days among the elderly. Customers can take advantage of these unique products that are designed with safety in mind. There are numerous relatively low cost modifications homeowners can make that may potentially help decrease the risk of having a dangerous fall.
Shoppers that would like more information can contact an Aging Safely Baths representative for a consultation without cost or obligation. In addition, nursing homes, assisted living facilities, hospitals and builders can qualify for volume pricing incentives on hydrotherapy walk in tubs and handicap showers.
Contact Information:
Zach Wennstedt
1-888-779-BATH(2284)
info(at)Agingsafelybaths(dot)com