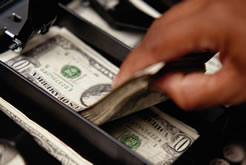 Employee POS theft is occurring everywhere.
Las Vegas, NV (PRWEB) June 25, 2013
eConnect has been deploying its POS Connect, loss prevention system since 2009 and they have noticed a wide range of losses depending on the type of business unit, transaction volume and inventory control. The list below is a breakdown of losses via employee theft found with the eConnect software suite.
Retail - 0.5% - 1.5% was the actual loss when tight inventory control is present- meaning weekly or monthly inventory is done with management/audit team. eConnect recommends a combination of retail inventory automation, strict employee procedures and eConnect POS Connect.
Retail - No Controls - 1.5% - 6% is a common loss percentage when there is no inventory review process. Without a good inventory process, there is a high likelihood that theft may be occurring in areas which either have an antiquated POS system or none at all. There is always a problem when there aren't any business controls, this is an open door for fraud and theft, the professional loss prevention community recommends that a company invest in the proper technology and management techniques to prevent losses.
Beer/Wine Bars - eConnect commonly sees a large amount of theft in bars, the busier the bar is, the more fraudulent activity takes place - In strict pouring bars where the barkeep pours from a jigger and only serve bottled beer, operators see losses as high as 7%.
Full Bars/Free Pour - In bars which allow the bartender to free pour and serve draft beer, eConnect has a theft benchmark at about 10% - 15% in loss. In these environments, it seems that many bartenders are participating in some form of theft, be it through free drinks in an effort to earn more tips or by not ringing in the drinks on cash sales. In casinos eConnect noticed a huge problem with bar comps given out illicitly or very loosely.
Fast Casual Dining - This is an area where we uncover a great deal of scams, everything from no-sale cash theft, void item, void check (manager scams), reprint receipts and much more. eConnect see losses of about 5% on average. Once again, this is fully dependent on the level of inventory control, the types of items; convenience foods & bottled/canned drinks versus made to order items and soda fountains which are more easily manipulated.
Food & Retail Kiosks - Counting inventory where possible is key, but the door is still open for theft on voids, discounts, manager/supervisor manipulation. 3.5% would be an average loss that eConnect would apply to such an area.
Parking & Valet - eConnects casino customers report that this is an area of huge scams. There is no specific loss projection built for this scenario, but beware that there are concerns regarding theft and financial losses.
"We are seeing overwhelmingly good results with the use of our POS Connect platform, its ease of use and proactive approach to catching employee theft has allowed it to prosper anywhere there are POS tranactions." Commented Chris Swanger, Director of Marketing at eConnect "Employee POS theft is occurring everywhere by everyday people that you would least suspect."
About eConnect:
eConnect is a software company in the security industry which provides financial transactional analysis with visual verification. This is accomplished by synchronizing transactional data from point-of-sale (POS), casino systems and games to digital video surveillance, producing the best fraud deterrence tool in the industry. The software tool also increases the effectiveness of employee productivity, allowing managers to easily identify common employee errors. The software provides a dramatic return on investment usually within 3 to 6 months.