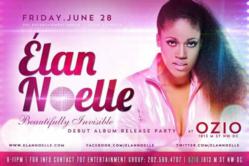 Washington, D.C. (PRWEB) June 25, 2013
It's a party at the Ozio Lounge in downtown to raise awareness and funds for pancreatic cancer research as we launch Élan Noelle's debut self-produced album, featuring singles "Into the Light" and "Beautifully Invisible". Marc Brown of MB Communication will emcee the event which will promote Élan's new music with a special live performance and pre-release CD's for all guests. The night will be full of good fun, an excellent selection of drink specials and a chance to meet and support Élan on her journey to the big stage.
Doors Open 5pm
Performance Starts at 8:45pm
Ozio Rooftop and Lounge
1813 M Street NW, WDC
RSVP rsvp(at)usualsuspectz(dot)com
This special event is sponsored and promoted in collaboration with MBM Entertainment, LLC, popularly referred to as "The Usual Suspectz," a marketing and promotional company that's based in the Washington, DC metro area.
About: Élan Noelle is singer, songwriter and producer whose talent brings a freshness to the Pop and R&B music scene that is blended with nostalgic nuances from the 80's Pop and R&B dance tracks. Élan's writes all her own music and has a new self-produced album filled with an upbeat style that is aimed at making her audience want to get up and dance. She has many years of experience performing and singing on stage with her sisters in the group Zephyra before she became a solo artist. Most recently Élan opened for Lyfe Jennings at the Howard Theatre in Washington D.C. and she can be seen hosting the hottest parties in D.C area dance clubs, as well as, appearing in T.V. commercials and local theatre.
Keep up with Élan and her music by liking her Facebook page.
For additional information on booking Élan Noelle to perform, contact Michelle at the 707 Entertainment Group.
-END-