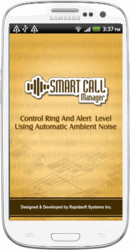 This app will be a very useful tool to manage the incoming calls in today's busy lifestyle
Princeton, NJ (PRWEB) June 25, 2013
Rapidsoft systems releases its "Smart Call Manager" application for Android. This app provides a set of useful features for managing inbound calls. It monitors inbound calls and automatically adjusts call and alert volume based on the phone's surrounding ambient noise level. As a result, the user will not miss any incoming calls, even if they are in an extremely loud location. Similarly, a call receiver will not be embarrassed in a business meeting or in a designated quiet area due to a loud ringtone.
The other features of the Smart Call Manager app are:

Smart Ring Control
Auto-Adaptive Ring Control for Android
Auto-sends SMS to the caller if a call is missed
Auto-answers the incoming calls
Voice Notification and Caller ID notification for an incoming call
SMS Voice reader
Commenting on the release, Dr. Brijesh Kumar, COO, Rapidsoft Systems said "We are very pleased to announce our 'Smart Call Manager' app on Android. We are confident that this app will be a useful tool to manage calls in today's busy lifestyle."
The application works with all standard and downloaded ring tones. The app also provides many exciting new ring tones and alerts that are suitable for high noise environments.
The apps can be downloaded at the links below:
About RapidSoft Systems, Inc.
Rapidsoft Systems, Inc. (http://www.rapidsoftsystems.com) is a leading Outsourced & Offshore Software Product Development company with its headquarters in the United States and product engineering centers in United States & India. It partners with technology companies and software-enabled businesses to help them bring quality software products to market through dedicated or on-demand offshore engineering teams. It has a subsidiary, Mobisoft Technologies (http://www.mobisofttechnologies.com) dedicated to mobile applications development located in Noida, India.
Rapidsoft Systems, Inc. has its main office in Princeton, NJ, USA, a US R&D Center in Mercerville NJ, and sales, support and development offices in Palo Alto, CA, USA, Dubai (UAE), and Noida (India).
Contact Information:
Amy Rosewal, PR Manager
Rapid Protect, a division of
RapidSoft Systems, Inc.
+1 609 439 4775
info(at)rapidsoftsystems(dot)com