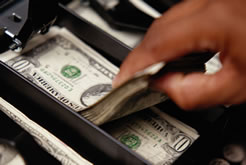 Las Vegas, NV (PRWEB) June 25, 2013
The following 10 POS scams were the most common ways that employees stole from their employers while operating the Point of Sale terminal. eConnects POS Connect software was used to find these scams.
1. Short ringing items- This is where the employee either rings up something less expensive or nothing at all in order to steal cash during a sale.
2. Floating Receipts- Recycling or reprinting checks allows the employee to reuse receipts from previous transactions in order to steal 100% of the money from a similar transaction done in the future.
3. Line Item Voids- prior to the completion of any transaction, employees can delete items they ring up by mistake. This can also be used to reduce the check amount and steal the difference when the patron is not paying attention.
4. Discounts- On cash transactions, employees will commonly apply a discount to reduce the check amount and give themselves the difference.
5. No Sale- Many POS cashiers commonly need to make change for a patron, but this function is also used to pop the drawer anytime and steal when a cash transaction presents itself. This can be used in conjunction with the Short-Ring.
6. Manager Void- Just because they are called managers doesn't mean they don't steal, you should keep a close watch on all managers and supervisors. Also look out for managers who leave their POS swipe card or password with "trusted employees", this can result in theft as well.
7. Saved Checks- Sometimes employees will save the check but never close out the transaction then later say it was a mistake that happened during the shift. Many times these checks can end up in cyber space and go unnoticed for awhile.
8. Top Sellers of Cheap Items- Whenever you have an employee who is breaking the sales record for the cheapest items, do not be so quick to celebrate. You may want to see if they are selling cheap items in an effort to give away more expensive merchandise.
9. Collusion- Take a look at void reports for managers vs. employees, you may see a trend that you don't appreciate too much.
10. Employee Breaks- If you have an employee who is coming up short on their drawer at the end of the day, do not be so quick to fire them, you may want to see who covered their drawer during the break. Keep people on their own cash drawer if possible.
For questions or comments about these Top 10 POS Scams, please contact Chris Swanger at 702-683-4766