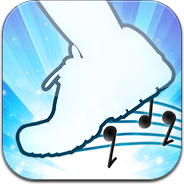 You don't have to even think about picking songs to fit your pace because suddenly all of your music matches you. It runs with you.
Chicago, IL (PRWEB) June 25, 2013
Resonant Technologies today released TrailMix, the world's first fully automatic step-synced music player, as a no-cost download on iTunes for all compatible iOS devices. TrailMix works almost magically to detect the listener's pace while walking or running, and instantly adjusts the music tempo to stay in sync. The result is a music app that "runs" along with the listener, speeding up or slowing down songs, while maintaining superb audio fidelity without producing the "chipmunk" effect.
"TrailMix is pure magic," says the app's lead developer James Potter. "I've watched dozens of people experience the app for the first time. Once your feet hit the ground, it just blows your mind."
TrailMix works with all the music on a user's device, in any musical genre, not just traditional workout songs. Unlike similar apps that rely on the user to know the number of beats-per-minute (BPM) of a song, or require a network connection to download song information from a limited database, TrailMix built an advanced recognition engine that "listens" to the music in real time to sync the perfect tempo.
"The way the music responds to your movement was perfected endlessly until it felt just right," explains Potter. Because the app does not rely on an internet connection, it works equally well on the iPhone or iPod Touch, making it ideal for exercise fanatics and music enthusiasts on the move.
Rather than a workout gadget, however, TrailMix is a music player at heart. No setup is required. Anyone familiar with the iPhone's built-in music player will feel right at home. Users tap once to play any song from their personal music library — and then get moving.
"You don't have to even think about picking songs to fit your pace because suddenly all of your music matches you. It runs with you." Potter notes that users of the app can also create playlists to focus on specific tracks based on their mood or workout routine. "You feel the beat each time you take a step."
The app will play and sync with any song in a user's library, as well as playlists containing up to 20 songs, whether the listener is running, walking, sprinting, or strolling. TrailMix incorporates a pedometer, and health- and fitness-related rewards from Kiip, an online service that motivates users to exercise by giving away free items and coupons. A Pro version of TrailMix, available separately for $4.99, removes banner ads and includes enhanced features like Magic Shuffle, which chooses songs automatically to match your current tempo, and Cruise Control to lock in a song at a preset beat. The Pro app also provides enhanced stats and an intelligent stopwatch that starts and stops as the user moves to keep track of workout sessions automatically.
Although the Pro version has already garnered over 100,000 users in a short time, the TrailMix team says it feels the free app released today will encourage many more people to move to their own beat. The app received some unlikely recognition when comedian Bert Kreischer called it "the best f***ing app in the world" for helping him lose weight. Potter's reaction to the app's incredible appeal is more modest.
"Everyone walks, and everyone loves music, so basically our app is for everyone," he says.
Technologically, the TrailMix app incorporates a marvel of artificial intelligence behind its simple and engaging GUI. Three years of research went into the development of a custom algorithm that detects a song's beats-per-minute in the same way humans do, so that results match how a listener perceives the rhythm. All this is done in real time while also detecting the user's rhythm of motion.
"I initially thought the idea for TrailMix was completely crazy. But the sheer coolness of having my music run with me led us to devote three years of our lives to making it happen," says Potter. "It can take your workout to the next level, and for some, it can even change your life."
Adds Potter, "And it works great for just walking to the store, too."
TrailMix is available now. Download the app from the iTunes App Store at: https://itunes.apple.com/us/app/trailmix/id647651691

Language Support: English
Device Requirements: iPhone 3GS, iPhone 4, iPhone 4S, iPhone 5, iPod touch (3rd generation), iPod touch (4th generation), iPod touch (5th generation), iPad or iPad mini
Requires iOS 4.3 or later
6.3 MB
Product URL: http://www.trailmixapp.com/
Direct Download Link: https://itunes.apple.com/us/app/trailmix/id647651691
Company Website: http://www.resonanttech.com/
Screenshots: http://www.trailmixapp.com/screenshots
App Icon: http://www.trailmixapp.com/icon
Press Kit: http://www.trailmixapp.com/press-kit
Facebook: https://www.facebook.com/pages/TrailMix-App/173252232732804
Twitter: https://twitter.com/trailmixapp
About Resonant Technologies
Resonant Technologies, LLC is a software development company founded by two brothers, Tom Potter and James Potter, originally from Issaquah, Washington. In 2010, the pair began work on TrailMix, the world's first fully automatic step-synced music player, which was in research and development for nearly 3 years before being unleashed on the iTunes App Store to both critical and user acclaim.