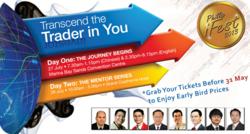 SINGAPORE (PRWEB) June 25, 2013
After the success of the inaugural Phillip Investment Festival (iFest) last year, PhillipCapital is proud to present the second installment of iFest on 27-28 July. With the aim to boost attendees' investment and trading knowledge, Phillip iFest 2013 features 8 experienced investment specialists including Mike Bellafiore, Eric Hu, Willie Tan (@Tan Ai Ming), M. Salim and Tom Yuen, who will cover all aspects of the financial market – stocks, futures, portfolio management and long term investments, in two days.
Emphasising on client education, this year's iFest theme is "Transcend the trader/investor in you" and caters to both the Mandarin and English speaking crowd by having 2 separate sessions. In addition, these investment specialists are called 'mentors' because they will be coaching the audience in a comprehensive manner so that attendees will be able to understand new strategies and level up in terms of knowledge.
Beginners as well as Intermediate traders or investors can start their learning journey with half-day sessions on 27 July. They will hear from industry veteran Willie Tan (@Tan Ai Ming), who has over 30 years of experience in the financial industry and has been featured in local and Malaysian media. He is accompanied by Eric Hu, a private-banker-turned-consultant who will share his portfolio management expertise and the secrets behind how multi-millionaires structure investments. Also on the exciting panel are investment experts Dr Robin Han and Nicholas Wang Zilong, both of whom are also regularly featured on local radio and newspapers. Nicholas Wang Zilong will talk about trading gold futures.
The keynote speaker for Phillip iFest 2013 is Mike Bellafiore, a professional proprietary trader who co-founded SMB Capital in New York City and is also the author of the 'trading classic' "One Good Trade". He will be in Singapore to official launch his second book "The Playbook" in Asia together with PhillipCapital and during iFest, Bellafiore will share insights into how professional traders plan, execute and review their trades in order to be successful. Expert traders will gain extra mentorship if they attend the special 'live' trading session with Bellafiore as the US market opens on Mon, 29 July and learn from one of the very best on how to make one good trade again and again. SGX Academy Professional Trainer Tom Yuen, who mentors and teaches trading techniques to professional traders will be present to share the skills needed to trade futures successfully. Other English-speaking mentors include Collin Seow, one of Phillip Securities Remisiers.
By bringing together these experts who are specialized in their own fields, the Phillip iFest aims to enable each attendee to tap on the experts' accumulated experience and expertise, be enriched with knowledge and thus, allow one to understand the financial markets on a deeper level.
For more information on Phillip iFest 2013 and on the mentors, please visit http://www.poems.com.sg/ifest.
For media queries, please contact:
Kwang Sook Fong
Phillip Securities Pte Ltd
+65 6531 1567
kwangsf(at)phillip(dot)com(dot)sg
Freddie Lacorte Jr.
Phillip Securities Pte Ltd
+65 6531 1560
freddie(at)phillip(dot)com(dot)sg
Melissa Fann
Phillip Securities Pte Ltd
+65 6336 8305
melissafannhj(at)phillip(dot)com(dot)sg
About PhillipCapital Group
PhillipCapital* is an alliance of independent companies both in and outside Singapore which together offer a full range of quality and innovative financial services to retail, corporate and institutional customers. With headquarters in Singapore, the Group's all-time strength lies in its ability to be a one-stop provider of a full range of financial products from global exchanges ranging from equities, derivatives and commodities to mutual funds and insurance, while leveraging on its strong IT capabilities.
Member companies in the PhillipCapital Group network operates in financial hubs across 13 countries, including Singapore, Malaysia, Indonesia, Thailand, Hong Kong, China, Japan, Sri Lanka, United Kingdom, France, Turkey, Australia and USA. The full range of financial services provided includes fund management, bond and securities broking, futures, foreign exchange, precious metals and commodities broking, unit trusts, insurance, property consultancy, investor education and research.
Collectively, members of the PhillipCapital Group have extensive branch networks, with more than 3500 employees globally and total shareholders' funds in excess of US$1 billion.
*Alliance members can otherwise be identified by their authorized use of the PhillipCapital brand name along with their own name in their documentation and literature.
About Phillip iFest 2013
Get close and personal with our trading gurus at the Mentor Series as you learn how to deal with the current and upcoming market conditions. Maximise the opportunity to soak in their outlook and insights, and learn the strategies they have to offer for the uncertain times. Traders and investors will also pick up methods of boosting their trading abilities on methods to deal with the current and upcoming market situations from our panel of star-studded investment personalities.
As part of our mission to continuously provide quality financial and investment education, iFest was launched in 2012 to host a series of conferences featuring high profile international gurus and experts in finance.