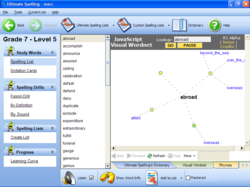 Kids don't realize that learning is actually occurring – they think they are merely playing computer games.
New York City, NY (PRWEB) June 28, 2013
The company behind many popular e-learning software products revealed today that its recently-released Ultimate Spelling™ 2013 is a great solution for significantly improving kids' spelling skills through a variety of spelling lists and other spelling activities and games. According to a recent study, it's important that children have lists that are targeted not only to their grade level, but also to their individual level. Researchers Douglas Fischer and Nancy Frey state that for best results, "each week students should have a personal list of words they are studying." eReflect's software allows personalization of spelling lists and also provides grade-specific lists that help parents tailor the spelling practice to the child's needs.
A representative from the parent company of Ultimate Spelling™, eReflect, announced that unlike other spelling improving software products, Ultimate Spelling™ engages children in learning to spell in the most appealing manner, which consequently ensures that learning will be successful. According to eReflect's company spokesperson, Ultimate Spelling™ for kids is efficient and its high success rates come from its emphasis on a "learn through play" strategy. The wide array of spelling drills, spelling lists, and exercises, combined with the expertly designed spelling games and other fun activities, ensure that children retain their interest in spelling and in using the software. Kids don't realize that learning is actually occurring – they think they are merely playing computer games.
According to the producers of Ultimate Spelling™, the system has been designed by experts in literacy and spelling learning to ensure that all activities included in the software optimize the user's spelling performance in the most effortless and efficient way possible. eReflect highlighted how the software has been designed by experts and with the latest scientific research findings always in mind.
As the makers of Ultimate Spelling™ revealed, particular emphasis was given on providing children a supportive and reliable spelling tutor that guides them throughout their learning process, ensuring no gaps in knowledge are left unfilled. The seamless assimilation of interactive spelling exercises and step-by-step tutorials ensure that young spellers will easily and successfully improve their spelling performance.
Spelling bee software products such as Ultimate Spelling™ are, according to eReflect's software development team, a must-have spelling learning solution for parents that wish their children to improve their spelling skills quickly and effectively. Ultimate Spelling™ allows the young learners' parents to monitor, adapt and streamline their progress, enabling them to know at any time how their children's learning is progressing.
For more information about how Ultimate Spelling software can improve spelling performance for you and your family, please visit the official website at http://www.ultimatespelling.com.
About Ultimate Spelling™
Ultimate Spelling provides a modern and easy to use spelling software that has been designed with one goal in mind – making children want to learn.
It is a fast and easy way to master even the most complicated spelling, without the need to write long lists or complete boring tests.
In fact, Ultimate Spelling provides more than just spelling help. It is a complete educational resource that boosts all level of a child's literacy.
Containing a personal computer tutor, Ultimate Spelling is the most realistic step-by-step guide to flawless spelling ability.