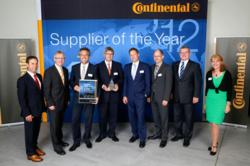 Eindhoven, Netherlands and Regensburg, Germany (PRWEB) June 25, 2013
Continental's Automotive Group has awarded NXP Semiconductors N.V. (NASDAQ: NXPI) the title of "Supplier of the Year" in Electronics (Discretes & Standard ICs). The Automotive Group pays tribute to its best suppliers every year in early summer. Based on a systematic annual appraisal of more than 900 strategic suppliers, the Automotive Group identifies those companies that have turned in an outstanding performance in its various material segments. The 13 winners of the automotive "Supplier of the Year 2012" awards recently received their awards at Continental's International Purchasing Manager Meeting in Frankfurt, Germany, where 160 Continental Automotive purchasing managers from across the globe discussed supply-sector strategies.
"As one of the world's leading automotive suppliers, we have a portfolio that includes intelligent technologies for key growth areas. Based on our components and systems, vehicles consume less and less energy, become ever safer, and today offer previously unattained levels of comfort and convenience. In all of these areas, the ongoing automotive evolution process will continue to pick up speed, not at least in respect of the major development goal of automated driving," said Continental Executive Board Member Helmut Matschi. "And as we strive to build on our technology leadership in the marketplace, we are dependent upon suppliers who can provide us with expert support."
Comprehensive appraisal system
In order to identify the winners of the annual "Supplier of the Year" awards, Continental Automotive assesses its strategic suppliers every year using a list of criteria concerning the areas of quality, technology, logistics, costs, and purchasing terms and conditions. These awards are presented in five sectors: electronics, electro-mechanical engineering, mechanical engineering, investment and engineering services, and division-specific services. The Continental Automotive Group is made up of three divisions: Chassis & Safety, Powertrain, and Interior.
Günter Fella, Head of Purchasing at Continental Automotive, underlined the fundamental importance of extensive and trusting collaboration with suppliers and the great strength of Continental's supplier network: "We've continuously improved our high standard of quality in recent years," he said. "The 'Supplier of the Year' awards and the yearly appraisals of supplier capabilities they're based on have also played a role here. Today these awards are coveted tokens of appreciation throughout the industry, and as such they motivate our suppliers to deliver top-class performance."
Kurt Sievers, Executive Vice President and Head of the Automotive business unit at NXP Semiconductors, emphasizes the high quality of the work his division does together with Continental: "This is the first time we've received the 'Supplier of the Year' award from Continental. We are very proud of our long and successful relationship with one of the largest automotive suppliers in the world. Working so closely with a partner like Continental has helped us enhance our efficiency, quality, and innovative strength even further and has also strengthened our position as one of the leading suppliers of high-performance mixed-signal solutions in the automotive semiconductor sector."
NXP's products enable more energy efficiency to be achieved in motor vehicles and drive car-to-car communication forward. The technology company focuses on car entertainment, solutions for on-board networking, keyless access and immobilizers, sensors, and power MOS. What's more, NXP is one of the leading suppliers in terms of automotive logic, display drivers, interface products, and discrete small-signal semiconductors.
All in all, last year the Continental Automotive Group purchased raw materials, components, and engineering support to the value of some €11.2 billion from over 4,000 suppliers worldwide.
With sales of €32.7 billion in 2012, Continental is among the leading automotive suppliers worldwide. As a supplier of brake systems, systems and components for powertrains and chassis, instrumentation, infotainment solutions, vehicle electronics, tires, and technical elastomers, Continental contributes to enhanced driving safety and global climate protection. Continental is also an expert partner in networked automobile communication. Continental currently has approximately 173,000 employees in 46 countries.
The Automotive Group with its three divisions Chassis & Safety (sales of approximately €7,0 billion in 2012, 34.5000 employees), Powertrain (sales of approximately €6,1 billion in 2012, 31,000 employees) and Interior (sales of approximately €6.4 billion in 2012, 33,000 employees) achieved sales of approximately €19,5 billion in 2012. The Automotive Group is present in more than 170 locations worldwide. As a partner of the automotive and commercial vehicle industry, it develops and produces innovative products and systems for a modern automotive future, in which cars provide individual mobility and driving pleasure consistent with driving safety, environmental responsibility and cost-efficiency.
The Chassis & Safety Division develops and produces electronic and hydraulic brake and chassis control systems, sensors, driver assistance systems, airbag electronics and -sensorics, washer systems and electronic air suspension systems. Its core competence is the integration of active and passive driving safety into ContiGuard. The Powertrain Division integrates innovative and efficient system solutions for vehicle powertrains. The comprehensive range of products includes gasoline and diesel injection systems, engine management, transmission control, including sensors and actuators, as well as fuel-supply systems and components and systems for hybrid and electric drives. Information management is at the very heart of the Interior Division, which provides a range of products that includes instrument clusters and multifunctional displays, control units, electronic car-entry systems, tire-monitoring systems, radios, multimedia and navigation systems, climate control systems, telematics solutions and cockpit modules and systems.
About NXP Semiconductors
NXP Semiconductors N.V. (NASDAQ: NXPI) creates solutions that enable secure connections for a smarter world. Building on its expertise in High Performance Mixed Signal electronics, NXP is driving innovation in the automotive, identification and mobile industries, and in application areas including wireless infrastructure, lighting, healthcare, industrial, consumer tech and computing. NXP has operations in more than 25 countries, and posted revenue of $4.36 billion in 2012. Find out more at http://www.nxp.com.