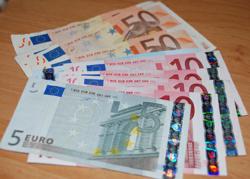 A likely outcome for euro over the coming months would be a slight fall in the rate back towards 1.16.
(PRWEB UK) 25 June 2013
Holidaymakers hoping to head to popular European destinations such as the Algarve and Spain this summer, will have found the current Sterling-Euro exchange rate a surprise when it came to booking holidays.
Select Resorts, a leading private villa operator, has seen that their clients budgets aren't stretching as far as travellers would like compared to previous years. To ensure that their clients receive the best possible price, Select Resorts monitors the exchange rate on a daily basis.
Travellers heading away this summer will be anxious to learn how their spending power abroad will be affected. The good news is that the exchange rate is expected to remain fairly consistent over the following months. Glenn Stevens, Moneycorp, offered the following insight:
"A likely outcome for euro over the coming months would be a slight fall in the rate back towards 1.16. Quite simply, markets are currently not being dominated by fundamental issues. They are based on sentiment. Sentiment at the moment is making the US Dollar very weak against all major currencies. The reason this is important is that when people remove their interest in the $ they need to move it somewhere else. Right now they are moving into the €.
"This then begs the question of why the GBPEUR Rate is not moving? Quite simply... because the UK is doing well! All recent data suggests further growth in the UK and less need for quantitative easing from Mark Carney, the new Governor of the Bank of England, when he arrives in July."
By keeping an eye on the exchange rate and working with leading experts at Moneycorp, Select Resorts is proud to be able to offer their customers competitive deals on holidays in destinations such as the popular Algarve resort of Quinta do Lago.
Holidays in the Algarve still remain extremely good value, despite the exchange rate, with the costs for many essential items coming up lower compared to destinations such as Italy. Private villa holidays make an ideal choice for bargain-hunters with many owners happy to agree a discount to ensure summer occupancy. The advice is clear for holiday-makers booking summer holidays – there is no need to worry.
ENDS.
Established in 1982, Select Resorts has over 30 years' experience in the overseas property market, both within sales and handpicked holiday accommodation across a range of European and International destinations. For more information contact marketing[at]selectresorts[dot]co[dot]uk.