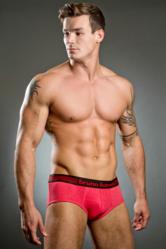 We salute all men who buy their own undies, and welcome female shoppers looking for something new and different for the men in their life
(PRWEB UK) 26 June 2013
Nick Graham's Think Tank column in WWD highlighted a dramatic change in male buying habits in the last two decades. Men are now buying their own underpants. He attributes the shift to men's increasing confidence in buying fashion for themselves, creating a 'personal brand' and internet shopping which gives them much greater choice.
Deadgoodundies' own fashion expert Jane Garner, who founded the online men's underpants business with Adam Davies in 2004, agrees more men are buying for themselves, but thinks the male-female purchasing ratio is more like 50:50 on the High Street, though DGU online customers are always predominantly men. "Some 90% of our sales are directly to men," she says.
"Nick Graham has hit the right note with his Think Tank article. Men's underwear used to be rather uniform, almost a distress purchase for guys who had little choice and even less interest in something different.
"But men's underwear is now very much part of what a guy wears. Whether he favours a chic suit or the latest designer jeans, he wants the right shape brief or boxer short, the right colour, the right fabric. Bricks and mortar retailers are not providing the sort of choice a website like Deadgoodundies can offer. Our stock is updated weekly, often several times a week. We don't just carry repeatable basics (though they are still core business and must be respected for their consistent performance) but fashion collections, colours, prints and styles."
Buying online, men can be more adventurous in their purchasing - DGU carries everything from enhancing men's underwear to practical long johns, strings and thongs, briefs, boxers, hipsters, matching tops and T-shirts, and men's swimwear from their leading brands.
"We have fast dry Joe Snyder underwear that doubles as swimwear, avant garde designs from the likes of Manstore and Gregg Homme, but also ultra comfortable and still very fashionable looks from ranges like Doreanse, Big Boys and Clever Moda," says Jane.
"We salute all men who buy their own undies, and welcome female shoppers looking for something new and different for the men in their life. Men's pants drawers across the world are getting better and better."
Company Information
Deadgoodundies is an online only retailer stocking the best in designer men's underwear and swimwear from all over the world including: (in alphabetical order) Big Boys, Body Art, Bruno Banani, Bum-Chums, Clever Moda, Doreanse, Ergowear, Gigo, Gregg Homme, HOM, James Tudor, Jockey, Joe Snyder, MaleBasics, MANstore, Mey Bodywear, Mundo Unico, Nils Bohner, Obviously For Men, Olaf Benz, Pikante, PUMA, Skiny, Sloggi, Solar TanThru and Zoggs. DGU stocks everything from thongs and strings to briefs, hipsters and shorts as well as selected loungewear, socks, T-shirts and more from their best selling brands.
DGU are incredibly media friendly and always have high res images on hand for fashion pages and samples for photo shoots as well as expert comment and market insight from partners Adam and Jane.
For more information contact DGU PR Jane on 01743 271615 (international +44 1743 271615) or email pr(at)deadgoodundies(dot)com