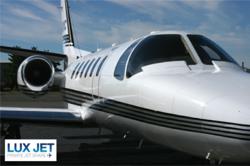 Booking seats on a private jet is a growing trend, especially considering that flying by jet share is comparable to the cost of business class prices on larger schedules airlines
(PRWEB UK) 26 June 2013
With the recent long cold winter and a disappointingly delayed spring, it's no surprise many families are looking at booking last minute holidays abroad in order to find some guaranteed sunshine and warmer weather. The private villa rental market is a sector that is enjoying a bit of a boom period, fuelled by families looking for cost-effective holidays, opting to take advantage of subtle locations, self-catering options and the luxury of a private pool.
Scott Nicholas, founder of the online private jet share business Lux-Jet, talks about the changing nature of the family holiday. "Through partnerships we have established with privately operated villa rentals, we are seeing families across the UK look to take perhaps a longer than normal holiday this year, on average 2-3 weeks and are renting villas in France and Spain. When holiday time is so precious, many families are finding ways to cut down on the travel hassle factor to ensure the journey is as efficient and enjoyable as possible. Buying seats on private jets in a growing trend we are seeing in the industry especially when in many cases flying by private jet share is comparable to the cost of business class seat prices on the larger scheduled airlines."
In the 21st century, many travellers are starting to weigh up the total costs of time and hassle of their journeys. With many airlines now introducing increasing costs like online credit card payments, costs for luggage allowances, costs for on-board food and drinks, combined with delays and queues, options like private jet share are predicted to become more popular as the factor of time becomes increasingly important to busy people.
With no check-in, security or gate queues, complimentary champagne and snacks whilst in the air, VIP lounges and terminals at departures and arrivals in destinations like Cannes, Palma and Ibiza; the chance to get a taste of the glamorous, jet-set lifestyle that was once confined to the rich and famous is now affordable and accessible to the general public.
Private jet share is a fast growing sector amongst a diverse range of travellers and holiday makers. Travelling by private jet is becoming a choice for groups like gents golfing or fishing weekends, luxury girl's hen weekends away, special family holidays and business travellers. Lux-Jet's offering is unique in the sector. The flight times are convenient, the destinations are popular holiday hot spots, the seat prices are affordable and ordering online is fast and easy with the seat price the only cost to pay.
To find out more about enjoying the amazing and affordable experience of flying by private jet for your next holiday or travel experience, visit the Lux-Jet website today at http://www.lux-jet.co.uk.